India: Is Buddhism back in vogue?
Express News Service, 11 Nov 2010
HYDERABAD, India -- What do foreign secretary Nirupama Rao's office, Rakhi Sawant's bathroom and drawing rooms of many Indians have in common? The answer is presence of Buddhist elements. From the new-found interest in the religion, it looks like Indians are having a new tryst with Buddhism.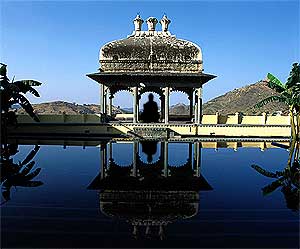 With Kabbalah becoming the latest exotic religion in the West, it is now Indians' turn to be infatuated with Buddhism.
But for most part, this interest has been more ornamental and cosmetic.
One often finds statues of Buddha, from laughing to reclining, in hotel lobbies, restaurants, yoga studios and even in bathrooms.
In 2009, controversy queen Rakhi Sawant reportedly earned the ire of generally peaceful Buddhists, when she posed for a photo in her bathtub with a Buddha in the background.
Many homes have a statue of the 'laughing Buddha', owing to a popular belief that rubbing the rotund figure's protruding belly will bring prosperity.
But not many people know that the 'laughing Buddha' is not actually a Buddha but an eccentric and jovial Chinese Zen monk? Roshini Shahani, an interior decorator says, "Many people are using Buddhist motifs in their homes these days. It is a trend that is catching up fast. But it is mostly aesthetic rather than spiritual or religious."
Burnt-out professionals are making a beeline for ten-day long Vipasana courses. Society women are chanting Buddhist mantras in their air-conditioned meditation rooms.Vipasana centres are mushrooming across the country, even in small towns.
Ananda Buddha Vihara, a noted Buddhist centre in Secunderabad, founded by Anjaneya Reddy, former chairman of APTDC, has seen a noticeable spurt of young devotees. "I have an aversion to organized religion. Buddhism allows me to be spiritual without being religious. One can be an atheist and at the same time follow Buddhism," says Suman Bharath (25) who visits the Vihara often.
Plenty of Hollywood actors also claim to be enlightened by teachings of the Buddha. Goldie Hawn, Richard Gere and Orlando Bloom are some of the star names. Bollywood too is not far behind. Nandita Das and Hansika Motwani have both spoken openly about their fondness for the religion. Priyanka Gandhi's interest in Buddhism is no secret either. So is Buddhism having a genuine revival in the country of its birth? Perhaps, it is time Indians started giving a serious thought to the Buddha's teachings.
TOP