We are India's chelas: Dalai Lama
Hindustan Times, November 20, 2010
New Delhi, India -- "The relationship between India and Tibet is one of guru and chela," said Tenzin Gyatso, the 14th Dalai Lama, at the first session of the Hindustan Times Leadership Summit 2010. "We learnt a lot from Indian scholars. And I always introduce myself to western audiences as a scholar of Indian thought… So we are chelas. But you must agree that we have been reliable chelas," he added with a chuckle.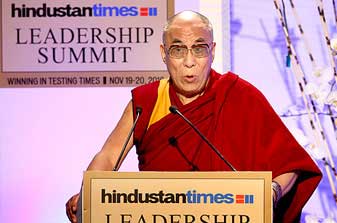 << His Holiness the Dalai Lama addresses a gathering at the Hindustan Times Leadership Summit
The core of the message the Nobel peace prize winner delivered to the packed Darbar Hall of the Taj Palace Hotel in New Delhi was about finding inner happiness and compassion to promote peace and happiness in troubled times.
Quoting the eighth-century Buddhist scholar from Nalanda, Shantideva, the Dalai Lama said, "You cannot cover the whole world's thorns with leather. But it's enough to cover only your feet. Similarly, by controlling your own anger you can overcome your enemies."
Giving the example of a Tibetan monk who spent 19 years in a "Chinese gulag", he said, "When he came to India and met me, he said he was afraid in the prison. Was it for his life? No, he said he was afraid that he would lose compassion towards the Chinese people. That's the Tibetan way."
Prayers help believers to stay on the path of compassion. For non-believers, which he reckoned made up the majority of the world's population today, "the secular way to warm-heartedness" must come through introspection and lived experiences, he said.
The leader of the Tibetan people also said that prayers alone don't help when it comes to improving the lot of whole communities – for that, concerted action is needed.
"I was in Bihar recently to unveil a Buddha statue… The state's chief minister said Bihar was more prosperous with the Buddha's blessing. When it was my turn I said had it been because of the Buddha then the state would have prospered long ago," said the Buddhist monk.
The questions at the end of the session brought in fresh energy to the interaction.
Hindustan Times Editor-in-Chief Sanjoy Narayan, who moderated the morning session, asked the Dalai Lama for a way to address the issue of disenchantment that seems to be rife among today's youth.
The 75-year-old monk replied, "Our generation belongs to the 20th century, a century of violence during which more than 200 million people were killed. This century is new yet… But whether it will be as violent will depend on the young people of today. If they can shun the hypocrisy and artificial things of the previous generation and enrich their inner wealth, it's possible."
Suhel Seth, co-founder of Equus advertising agency, asked the Dalai Lama on his "succession planning".
To this the Tibetan leader said with a laugh, "It isn't a serious question to me. But the Communist government is looking at it very seriously… It's for the Tibetan people to decide… If I die in the next few days, they may want to continue with the institution of the Dalai Lama. But if it's 20, 30 years later, who knows?"
TOP