Dalai Lama Inaugurates New Kalimpong Buddhist Temple
by YC. Dhardhowa, The Tibet Post International, 14 December 2010
Dharamshala, India -- Tibetan spiritual leader His Holiness the Dalai Lama is on a three-day visit to the Tibetan settlement in Kalimpong, West Bengal State of India, where His Holiness inaugurated the newly built temple of Gaden Tharpa Choeling Monastery on 12 December.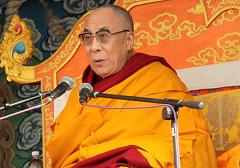 Hundreds of Buddhist devotees including senior officials of the state, local officials and people, and Tibetans living in the areas, monks have gathered on Sunday at the Gaden Tharpa Choeling Monastery to welcome His Holiness to Kalimpong.
As His Holiness started his first-day visit to the monastery after 1959, His Holiness was warmly welcomed by dozens of young costumed Tibetans, monks and students with performing a traditional auspicious dance and songs. His Holiness sat on a golden throne of the monastery, wrapped in his Buddhist red and gold robes and let out compassion smiles with offering of Mandrel prayers by the abbot of the monastery, Ven. Domo Geshe Rinpoche. Later, welcome speech was read-out by Mr Phurbu Tsering, secretary of the monastery.
"I am very happy to reach here at the Gaden Tharpa Choeling monastery of Kalimpong, the reason is that historically and culturally, the area of Kalimpong had a long, close and developed relationship between India and Tibet, this monastery is also one of oldest Tibetan monasteries in India. I have visited the monastery first time in 1956 to attend the 2500th Birth Anniversary Celebrations of Lord Buddha, and then shortly in 1959." said His Holiness.
On 13th December, thousands of Tibetans living in the areas and nearby Kalimpong areas arrived at the monastery, where teachings by His Holiness the Dalai Lama on "the three principal paths Lamtso Namsum and the lifelong empowerment (Tsewang).
Tibetan spiritual leader His Holiness the Dalai Lama will visit four areas of North- eastern states of India, Sikkim and West Bengal, December 12-24, 2010, at which time His Holiness will offer lectures on world peace, teachings of Buddhism, confer empowerment, participate in a conference on Brain and Mind, and take part in long life prayer offering ceremonies. His Holiness will also give the inaugural address at the conference on science and spiritualism to host by the Namgyal Institute of Tibetology, Sikkim.
TOP