Korean province to help Orissa to promote Buddhist tourism
Orissa Current News, January 21, 2011
Bhubaneswar, India -- Addressing the conference on tourism potential between South Korea and Odisha held here by the Odisha Tourism Development Corporation (OTDC) on Thursday to mark the United Nations International Day of Peace, Rajya Sabha member Pyari Mohan Mohapatra expressed the hope that the process of a tie-up between the South Korean Province of Jellonamdo and Odisha to promote tourism and other economic activities would attract Buddhist tourists to the State in large numbers from South Korea and Japan.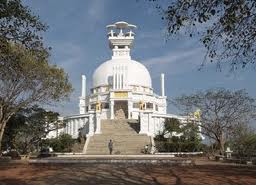 Citing the example of Kerala, which had less number of foreign tourists than Odisha three decades ago, but has now been able to increase it by many times, Mohapatra said that Odisha has languished almost at the same level, tourism is a big generator of direct and indirect employment, but it thrives only in an atmosphere of peace and conducive attitude among the host population which people of the state need to develop in good measure, he observed.
Labour and employment minister Pushpendra Singhdeo hoped that a people-to-people contact would get a boost and give a fillip to the economy of both the regions.
Ambassador of the Global Cooperation Society (GCS) to United Nations Dr Hong Ki-Kim compared the importance of Odisha for Buddhists with that of Jerusalem for Christians and rued that while Bodh Gaya in Bihar annually gets lakhs of overseas visitors Odisha gets only a handful.
Referring to the move of the OTDC to make the GCS the nodal agency for attracting tourists to the state, he said the presence of the GCS in 48 countries would be able to meet the expectations of the OTDC. OTDC chairman J Mohapatra welcomed the dignitaries and delivered a brief description of the GCS and its activities. Editor of Odisha Review Lenin Mohanty moderated the proceedings.
TOP