Road map for Nalanda University discussed
by Aarti Dhar, The Hindu, Feb 22, 2011
University will start with seven schools, primarily in humanities
NEW DELHI, India -- The Governing Board of the new Nalanda University on Monday laid down a road map to make the institution functional tentatively by 2013. The recruitment of faculty would be done one or two semesters before the first batch is enrolled so that they have a role in finalising the course structure.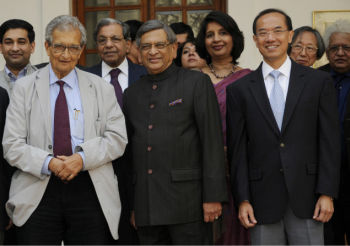 << PHOTO: V.V. KRISHNAN
External Affairs Minister S.M.Krishna, flanked by Nalanda Mentor Group head Amartya Sen and Singapore Foreign Minister George Yeo, prior to a meeting at the Hyderabad House in New Delhi on Monday.
The University will start with seven schools, primarily in humanities, but will include departments of Information Sciences and Technology, Business Management in Relation to Public Policy and Development and Ecology and Environment, in addition to Languages and Literature; Religion and Philosophy; Historical Studies, International Relations and Peace Studies; and Buddhist Studies.
First meeting
This was the first meeting of the Governing Board, which was earlier functioning as the Nalanda Mentor Group, and was attended by Gopa Sabharwal, who has just been appointed as the first Vice-Chancellor of the Nalanda University, to be set up just about 10 km away from the historic location of the Nalanda university in Bihar.
"We will try and enrol the students as soon as possible and as soon as infrastructure comes up at the site,'' Amartya Sen, chairperson of the Governing Board told journalists after the meeting. The meeting also discussed the statutes that would govern the University and the institutions relations with other universities. He said the focus at the beginning would be only on humanities due to the less cost involved. As we expand, we will include other subjects as well, he explained.
"In keeping with the extraordinary traditions of the historic University, we will develop the University as only as a secular institution but where religion will also be included,'' Professor Sen said clarifying that the university was an academic venture and not a diplomatic exercise just because several Asian countries had contributed for its development.
Foreign Minister of Singapore George Yeo – who is also on the Governing Board – said the entire issue of setting up the University is an "exciting exercise" and the institution would help in the over all development of the region which is backward. He also sought an international airport near Nalanda and said the Buddhist tourist circuit would get a boost once the institution became functional.
Global tenders
Announcing that the Governing Board had decided to go for global tenders, Dr. Sabharwal said 446 acres of land for the project had been acquired for the purpose. "Our aim would be to develop a state-of-the-art university,'' she explained adding that history showed that 200 villages around the old Nalanda University supported the institution and now was the time to do the reverse as the University would help in the development of these villages that would be traced and identified during the process of "interaction'' with the region.
TOP