Nalanda's glorious past a uniting factor in future
The New Straits Times, Feb 28, 2011
Nalanda, India -- By end-2013, an Asian university with a universal outlook and approach will take shape 887km east of New Delhi, to match what is being billed as the "Asian century".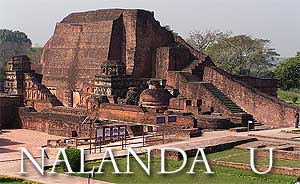 No geopolitics in it, although India's soft diplomacy is very much in evidence. It is an international effort, but participating nations are not competing to gain political or economic mileage. No brownie points are being scored by individuals.
On offer at Nalanda are only knowledge and enlightenment.
Nalanda is being rebuilt near a cluster of ruins today located in backward Bihar state that was once the land of Lord Buddha and housed the internationally renowned centre of higher learning.
It will be a modern university, but will hark back to a glorious past.
Established in the early 5th century, it was the world's first ever university. Nalanda was over six centuries old when Bologna, the oldest European university, was born.
Another distinguished university, which did not stay in existence continuously either, Al-Azhar University in Cairo, with which Nalanda is often compared, was established in 970 AD, when Nalanda was already over five centuries old.
Nalanda pre-dated Oxford and Cambridge by centuries. Had it not been destroyed and had it managed to survive to our time, it would be, by a long margin, the oldest functioning university in the world.
It was destroyed three times by invaders, but only rebuilt twice. The first time was by the Huns under Mihirakula during the reign of Skandagupta (455-467 AD). But Skanda's successors promptly undertook the restoration, improving it with even grander buildings, and endowed it with enough resources to let the university sustain itself in the longer term.
The second destruction came with an assault by the Gaudas in the early 7th century. This time, the great Hindu king Harshavardhana (606-648 AD) restored the Buddhist university.
The final blow came when it was violently destroyed in an Afghan attack led by the ruthless conqueror Bakhtiyar Khilji in 1193.
Re-establishing a university after an 800-year hiatus is not easy, says Nobel Laureate and chairman of Nalanda Mentor Group (NMG) Amartya Sen. The idea of reviving it as a centre of excellence in the creation and dissemination of knowledge in Asia was first mooted by then president of India A.P.J. Abdul Kalam in February 2006 during his official visit to Singapore.
Kalam, as is his wont, took the idea home and spoke to the Bihar legislators. Both Bihar and Singapore got motivated enough to translate the idea into a concrete project.
The Bihar assembly passed a bill in 2007 to establish Nalanda University, acquired land for it but wisely handed over the project to the government of India in view of its emerging international character.
Singapore pursued the idea more vigorously than even India in some respects and, to carry the message to East Asia, organised a "Nalanda Symposium" in November 2006.
It succeeded in enlisting the support of East Asian countries, especially China, Japan and Korea. Singapore has also joined hands with Japan in mobilising funds for giving shape to the project and executing it.
The governing board of the new Nalanda University last Monday unveiled a road map. The institution would be functional tentatively by 2013. The recruitment of faculty would be done one or two semesters before the first batch is enrolled so that they have a part in finalising the course structure.
The university will start with seven schools, primarily in humanities, but will include departments of Information Sciences and Technology, Business Management in Relation to Public Policy, and Development and Ecology and Environment, in addition to Languages and Literature, Religion and Philosophy, Historical Studies, International Relations and Peace Studies, and Buddhist Studies.
Religion and Philospohy? Yes. It will be secular, and yet it will have religious studies, says Sen. Even the old Nalanda was a Buddhist university, he points out, but it was remarkably open to many interpretations of that religion.
Today, when one keeps hearing blood-curdling war cries and talk of the "clash of civilisations", Nalanda could perform a vital role consistent with its original ethos — to be an institution devoted to religious reconciliation on a global scale.
Nalanda University is destined to emerge as a strong instrument of soft power at two levels, for the rising Asia in relation to the West and for India in relation to Asia.
Without invoking any competitive drive with its immediate neighbours, Nalanda could help India consolidate its position in the region. Scholars and students going out of Nalanda would become India's goodwill ambassadors in their countries.
As the project recaptures its past glory and élan, it will also boost Asia's confidence in its intellectual and academic capacities, and dent the heavy reliance today on Western universities like Oxford, Cambridge and Harvard for Asian scholars' professional credibility and recognition, says Prof S.D. Muni, visiting research professor, Institute of South Asian Studies, Singapore.
Defining the link between the Nalanda project and Asia's rise, Singapore Foreign Minister George Yeo, also an NMG member, calls it the "icon of Asian Renaissance".
He sought an international airport near Nalanda and said the Buddhist tourist circuit would get a boost once the institution became functional.
During his India visit last year, Chinese leader Wen Jiabao pledged US$1 million (RM3 million) to the Nalanda project. What has come so far is meagre. "We got US$7 million from Singapore, US$1 million from China, Australia is funding a chair, while Laos has given US$50,000," says Prof Gopa Sabharwal, the first vice-chancellor.
Funding the project is indeed a formidable challenge. The present target is to create an endowment of US$1 billion. Harvard University's endowment is US$35 billion. The funding constraint has restrained the NMG from opening faculties in the hard sciences.
Participating in the 2006 symposium, India-based Prof Tan Chung recalled that when the Han dynasty was on the verge of collapse in the 6th century, the spread of Buddhism from Nalanda helped China revive.
Prof Wang Bangwei of Peking University, now an NMG member, emphasised that "Nalanda belonged to not only India but all Asian Buddhists".
Prof Wang Dehua of the Shanghai Centre for International Studies said: "Let us forget about the 1962 incident. This project will symbolise the rebuilding of our old friendship and understanding."
The message is clear - Nalanda should bring not just India and China, but all other Asian countries, closer.
TOP