International Buddhist Centre in Colombo
Lanka Daily News, 16 May 2011
Colombo, Sri Lanka -- Theravada Buddhism which taught us to move forward as a nation on the path of kindness, tolerance, humanity, equality and harmony is the greatest gift we can bestow upon the world, President Rajapaksa said addressing at the opening ceremony of the Sri Sambuddathva Jayanthi International Buddhist Centre in Thummulla, Colombo.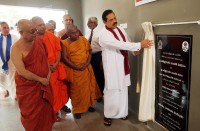 The Center will house the world's largest collection of Buddhist publications and literature.
The Sambuddhatva Jayanthi Mandiraya has been built at Thummulla to mark the 2600th Sambuddhatva Jayanthi by the Dehiwala Buddhist Cultural Centre, under the patronage of Urban Development and Sacred Area Development Ministry. It is the largest Centre for Buddhist Books and Information.
The building has an auditorium conforming to international standards with seating capacity for 600 people and will function as a center t spread the Buddhist Philosophy in the region and conduct Dharma research activities. It is complete with modern amenities including a Buddhist psychoanalytic centre and a recording studio. It has been built at a cost of 300 million rupees.
The President commended the Director of the Buddhist Cultural Centre in Dehiwala Ven. Kirama Wimalajothi Thera for his commitment towards building such a centre in a short period of 11 months. The Prelate presented eight Buddhist books translated into Sinhalese and three books translated into English to the President.
The President presented an award to the Venerable Thera for the religious service rendered by him. Speaking at the function Ven. Wimalajothi Thera said that Buddhism was adversely affected by terrorism that spanned 30 years and the open economy. Ven Welamitiyawe Kusaladhamma Thera also delivered an Anusasana.
The President also renamed Havelock Road as Sri Sambuddhatva Jayanthi Mawatha.
The Sambuddhatva Jayanthi Website too was inaugurated by the President. A replica of the Centre was also presented to the President.
Members of the Mahasangha led by the Mahanayaka of the Rohana Sector Most Ven. Attudawe Sri Rahula Thera, Speaker Chamal Rajapaksa, Ministers and Parliamentarians participated at the occasion.
TOP