Sri Lanka monks join anti-pension protests
By Amal Jayasinghe, AFP, June 4, 2011
COLOMBO, Sri Lanka -- Hundreds of Buddhist monks took to the streets of Sri Lanka's capital Friday to express solidarity with factory workers protesting a controversial pensions bill.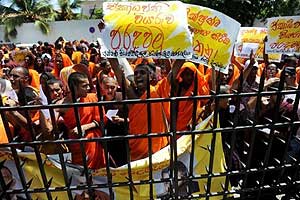 << Hundreds of Buddhist monks expressed solidarity with factory workers protesting a controversial pensions bill (AFP, Ishara S.Kodikara)
The legislation sparked clashes with police on Monday in which a factory worker was fatally shot and more than 150 were wounded.
Saffron-robed clergy marched to President Mahinda Rajapakse's tightly-guarded official residence, known as "Temple Trees", and staged a sit-down demonstration, dispersing after chanting anti-government slogans.
A demand by the monks to meet with Rajapakse was rejected.
The monks left placards denouncing his administration. "End the dictatorial rule," read one board left on the main gate of Temple Trees.
A spokesman for the monks said they were expressing solidarity with private sector employees and also wanted Rajapakse to take action against those responsible for Monday's violence.
The government had proposed taking over the compulsory savings of workers in the private sector and paying them a smaller than expected state pension after retirement, but on Thursday made a formal announcement withdrawing the bill.
The monks' protest came as authorities deployed heavily armed troops around the country's main free-trade zone as tension mounted ahead of the weekend funeral of the factory worker killed by police firing.
The 22-year-old man died in hospital on Wednesday after being critically wounded in a demonstration against the proposed reform. Others suffered bullet injuries and broken limbs.
The country's chief of police, Inspector-General Mahinda Balasuriya, quit on Wednesday, taking responsibility for the use of live ammunition.
Soldiers were stationed in the Katunayake zone, next to the country's only international airport, where a range of international companies from India, Japan, China and South Korea are based, an official said.
A media report said that German-owned factories were among those damaged during Monday's rampage, which saw machinery destroyed.
"The army has been deployed to maintain order. They have also been deployed at police stations to prevent mobs attacking them," said an officer who declined to be named.
Sri Lanka's main opposition political parties have blamed the government for the violence.
TOP