Leading Buddhist boys' school in Sri Lanka Ananda College celebrates 125th Anniversary
ColomboPage News Desk, Nov 29, 2011
Colombo, Sri Lanka -- A leading Buddhist boys' school in Colombo, Ananda College, held its 125th Anniversary celebrations today (29) at the college premises with the participation of President Mahinda Rajapaksa.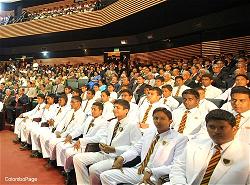 Ananda College Principal, L.M.D. Darmasena welcomed the President to the event. An old Anandian, Prof. J.B. Dissanayaka delivered the keynote address.
The guests included the Minister of Education Bandula Gunawardena, Defence Secretary Gotabhaya Rajapaksa who is an old boy of the school, President of the Past Pupils Association Tilak Karunaratne, representatives of the Security Forces, Parliamentarians and other notable alumni.
A book, produced by the Ananda College Old Boys' Association and written by Prof. J.B. Dissanayaka, on the theme of Ananda's many contributions to Sri Lanka's development and progress throughout its illustrious history was presented to the President. The book highlights the pivotal role Ananda played in national education and in many other crucial aspects of nation-building.
A silver coin issued by the Central Bank marking the 125th Anniversary was presented to the President by the Central Bank Deputy Governor K.G.P.P. Dheerasinghe.
The Education Minister Bandula Gunawardena speaking at the occasion said the Ananda College should earn accolades from the entire nation for molding great patriotic statesmen like the Defence Secretary who gave leadership and shouldered the task of liberating the country from terrorism.
The Minister asked the students not to betray the country at a time when efforts were underway to make Sri Lanka, Asia's Wonder and expressed hope that the school would produce more great leaders.
Minister Gunawardena also declared open the Education and Research and Development Unit on the sidelines of the function.
Ananda College is the first Buddhist school to be opened by the Buddhist Theosophical Society led by Sir Henry Steel Olcott against the Missionary education system. It was opened at Maliban Street in Pettah on the 1st of November 1886 and later moved to the present location.
TOP