Indo - Sri Lanka Buddhist ties strengthened
by Senaka Weeraratne, Lanka Daily News, Mar 9, 2013
Kandy, Sri Lanka -- An eight member Indian Buddhist delegation led by Ven Dr Bhadant Rahula Bodhi Maha Thera met President Mahinda Rajapaksa at President's House in Kandy on February 22. The visit was to strengthen ties between Buddhists of the two countries and bring India and Sri Lanka closer through the historical bond and civilisational link of Buddhism.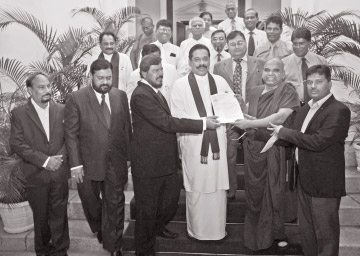 << President Mahinda Rajapaksa meeting the Buddhist delegation
They also discussed the possibility of the installation of a statue in Colombo in honour of Dr Babasaheb Ambedkar, the Indian Buddhist savant who was instrumental in bringing a large number of Indians, especially down trodden people (Dalits) into the fold of Buddhism.
On October 14, 1956 at Deekshabhoomi, Nagpur Dr Ambedkar publicly converted to Buddhism. He took the three refuges and the Five Precepts from a Burmese Buddhist monk, Bhadant U Chandramani and in his turn administered them to the 600,000 of his followers who were present.
The Indian Buddhist team arrived in the country at the invitation of Dr Lilaknath Weerasinghe, President 'Success Sri Lanka' based in Kandy.
'Success Sri Lanka' hosted the delegation during their stay in Kandy and Colombo and accompanied them to Anuradhapura with the assistance of the All Ceylon Buddhist Congress and coordinated by the German Dharmaduta Society and the Indo - Sri Lanka Buddhist Network, all of which entities constitute Regional Centres of the World Fellowship of Buddhists (WFB).
The Indian Buddhist team comprised Most Venerable Dr Bhadant Rahula Bodhi Maha Thera, President Bhikkhu Sangha's United Buddhist Mission, India, Ramdas Athawale, former Member of Parliament, Vice President of the World Fellowship of Buddhist, India, Ven. Bhadant Rewat Bodhi, High Priest, Bhikkhu Niwas Gedam layout, Nagpur, India, Avinash Kamble, President of the United Buddhist Federation, India, R L Tambe, Principal of the Tambe Education Society College, Mumbai, Sachchidanand Fulekar, Principal of the Dr Ambedkar Law College, Nagpur, Sachin M Moon, Managing Director, Lord Buddha Television, India, Vishwas Sakru Sarode, Director, HR and I R Lilavati, Hospital and Research Centre, Mumbai.
During their visit, the Indian Buddhist delegation met the Maha Nayaka Theras of the Malwatta and Asgiriya Chapters, Ven Banagala Upatissa Nayaka Thera, President, Maha Bodhi Society, Ven Kirama Wimalajothi Maha Thera, President, Buddhist Cultural Centre, Ven Dr W Wimalagnana Thera, Gangaramaya, Peliyagoda, Ven Medagama Dhammananda, Asgiriya Maha Viharaya, Ven Getamande Gunananda Thera, Ven T Palitha, Nalandaramaya, Nugegoda, Ven Mettavihari and Ven Galayaye Piyadassi Thera, Chief Sanghanayake Thera of the United Kingdom currently on a visit to Sri Lanka.
Ven Banagala Upatissa Nayaka Thera made a public announcement that a suitable portion of land within the boundaries of the Maha Bodhi Society precincts at Maradana, Colombo 10 would be allocated for the installation of the first statue of Dr Babasaheb Ambedkar and close to the pre-existing statue of Angarika Dharmapala, founder of the Maha Bodhi Society. A proposal by Ven .Kirama Wimalajothi Thera to set up an institute to commemorating Dr Babasaheb Ambedkar was also discussed. This proposed centre will provide residential facilities and training opportunities for visiting Indian Buddhist monks and nuns.
It is proposed to set up a Board of Management to plan and administer the premises and the Dhamma teachings. The establishment of a corresponding centre in India is also discussed.
The convening of an International Conference on 'The Revival and Renaissance of Buddhism in India in the 20th Century' has also been mooted.
TOP