Sri Lanka's Buddhist Standards
by Gamini Weerakoon, The Sunday leader, May 5, 2014
Colombo, Sri Lanka -- Every time we pass the Kanatte roundabout under the spreading Banyan tree, our eyes go to the four white boards placed around It: Metta (loving kindness), Karuna (compassion), Muditha (sharing one's own joy as well as of other's too) and Upeksa (equanimity – learning to accept loss and gain). These are four basic principles in Buddhism and said to represent the core of Buddha's teaching.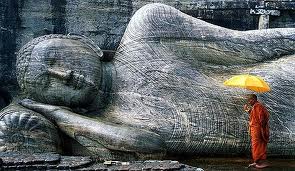 The traffic going around it certainly does not exhibit loving kindness, compassion, or anything of the sort. While the plight of drivers can be understood because of the severe pressures brought on them by heavy traffic, do Sri Lankan Buddhists, even when not under intense pressure – extend that loving kindness and understanding expected of Buddhists?
Bestial behaviour
The hard fact has to be admitted that we are being noted as an increasingly intolerant and bestial people. How else could a father throw his two children over a bridge into a river known to be teeming with crocodiles or a father tying his little daughter to a tree and placing a nest of vicious red ants on her as punishment for refusing to go to school be explained?
True, such beastly acts – even worse – happen in other societies as well. But these are instances that we have not heard of for over seven decades of living in this island. Is it that such cruelties were perpetrated before but the media coverage was so lax that they went unreported?
Hypocritical
The paradox is that we claim to be a very righteous and religious nation. We get up in the mornings with radios and TV blasting away religious sermons. Our religious leaders with their families clad in spotless white, carry trays of jasmines to offer at temples while TV cameras of state-owned channels record the events and broadcast them faithfully. Mahanayakes are visited quite regularly and their advice listened to but rarely followed.
Do our political leaders abide by the law of the land quite apart from the teachings of the Buddha? Crimes committed by some of our politicians have attracted international publicity. Some behave like cowboys of yore in the Wild West chasing out those 'varmints' who have dared to cross into their territory.
On Full Moon days we are a pious people with every single licensed bar and liquor outlet closed but the moonshine joints are having booming sales. Any move to open a licensed liquor sales outlet causes a public uproar with chief monks in the area at the fore and kasippu dealers behind them.
Casinos
Now there is a national debate on whether international casinos should be opened here. Following strong resistance from Mahanayakes, Archbishops, Hindu and Muslim dignitaries, President Mahinda Rajapaksa firmly declared that no new casinos will be opened. But the public feels that there is some hanky-panky matters underhand. The fact that three government regulations under the Strategic Development Projects Act were passed in parliament in the teeth of strong opposition have left many doubting whether casinos would emerge inside the multi-billion-dollar hotel projects.
Casinos will meet the foreign exchange requirements, it is said. Others doubt taxes being collected as expected from casinos when the Inland Revenue Department's tax collection from Sri Lankans have been on the steady decline – from 19 per cent of the GDP before 1995 to 11.5 per cent of the GDP in 2012.
Buddhists have closed ranks against opening of the proposed casinos but the ruling party had adopted the three regulations on Strategic Development Projects with a simple majority in parliament.
Buddhist prelates have clearly pointed out that gambling is against the Buddhist way of life. In the Sigalovada Sutta the Buddha has said that gambling is one of six ways to squander one's wealth. He has declared the six dangers inherent in gambling: Winning breeds resentment; the loser mourns the property lost; the gambler loses credibility among his fellow beings and earns contempt from his friends and colleagues.
Yet there are staunch Buddhists who support gambling. Well known bookies running betting shops are not only leading politicians but heading organisations for the protection and propagation of Buddhism!
The lack of a Buddhist consciousness among Buddhists in this country is no better illustrated than the arrest of a woman British tourist, a practicing Buddhist, for having the figure of the Buddha tattooed on her arm, throwing her into a remand jail in an extremely deplorable state and finally deporting her. Where was the Metta, Karuna, Muditha and Upeksa?
Much will have to be done to convince non Buddhists here and even Buddhist foreigners that this is the land where the teaching of the Buddha flourishes and it is indeed a Dhammadveepa.
TOP