Buddhist monk promotes peace through release of anti-nuclear manga in Sri Lanka
By KO IWAKI, The Asahi Shimbun AJW, June 29, 2015
Colombo, Sri Lanka -- With his home country of Sri Lanka having been embroiled in decades-long conflicts, Thalangalle Somasiri felt moved after reading the manga series "Hadashi no Gen" (Barefoot Gen), which depicts the aftermath of the atomic bombing of Hiroshima.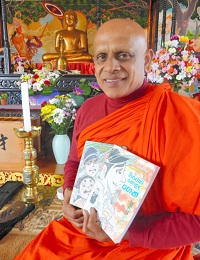 << Sri Lankan monk Thalangalle Somasiri shows the Shinhalese version of volumes 1 and 2 of "Hadashi no Gen" (Barefoot Gen) at Lankaji temple in Katori, Chiba Prefecture. (Ko Iwaki)
The peace-loving Buddhist monk released volumes 1 and 2 of "Hadashi no Gen" in Sri Lanka this spring after translating them into Shinhalese, one of the country's widely spoken languages.
Somasiri, 55, is the chief priest of one of the most famous temples in Sri Lanka called Sama Maha Viharaya, known as "Heiwa dera" (peace temple) in Japanese, in the suburb of Colombo, the former capital of the country.
He visits Japan a few times a year and participates in Buddhist missionary outreach to compatriots at Lankaji temple in Katori, Chiba Prefecture, located near Narita International Airport.
At age 12, Somasiri entered the Buddhist priesthood. He came to Japan for the first time in 1988 to study at Taisho University in Tokyo. He has published Japanese textbooks and books about old Japanese tales in Sri Lanka. Somasiri is also a member of the Japan P.E.N. Club, a gathering of writers seeking peace and championing freedom of expression.
Last summer, Yoko Matsubayashi, a 76-year-old Buddhist nun living in Yokohama whom Somasiri has long known and calls his "mother," introduced him to the "Hadashi no Gen" series.
Somasiri soon finished reading the manga, written by Keiji Nakazawa (1939-2012), which is about the author's own experiences depicted through the protagonist, Gen, as a survivor of the atomic bombing of Hiroshima on Aug. 6, 1945.
"The attitude of Gen trying hard in his life teaches us the significance of peace and courage," said Somasiri.
Conflicts in his home country persisted for about 25 years up until six years ago. More than 70,000 people are reported to have been killed in the combat and terrorism, and Somasiri's temple provided a temporary shelter to about 20 children orphaned by the violence, and other victims of the chaos.
Moved by the manga series, Somasiri revisited the Atomic Bomb Dome and the Hiroshima Peace Memorial Museum in Hiroshima last autumn. Those experiences cemented his determination to translate the series to make it available in Sri Lanka.
To do so, Somasiri awoke two hours earlier in the morning than usual and worked on the translation of the manga until 5 a.m., when he performs Buddhist chants as a daily service. Somasiri said he asked Matsubayashi the meaning of words expressed in a Hiroshima dialect and Japanese slang in the manga via an Internet call.
At the end of March, Somasiri was celebrated for the first publication of the Shinhalese editions of "Hadashi no Gen" at the Lankaji temple. Matsubayashi also joined the celebration there.
The monk set a goal of publishing all 10 volumes of the series in Sri Lanka within five years.
He also plans to translate "Nagasaki no Kane" (The Bells of Nagasaki), written by Takashi Nagai (1908-1951), a doctor, about his experiences as a survivor of the atomic bomb dropped on Nagasaki on Aug. 9, 1945.
"It is a duty for a religious person, like myself, to pray for peace," said Somasiri.
TOP