Sri Lanka exhibits sacred Buddhist relics from Taxila on Poson Poya
Lanka Daily Times, June 19, 2016
COLOMBO, Sri Lanka -- The most sacred relics of Lord Buddha from Taxila are currently on display for general public in Thanthirimalaya Rajamaha Viharaya, Thanthirimalaya, Anuradhapura for two days on the occasion of Poson Full Moon Poya Day being commemorated on Sunday.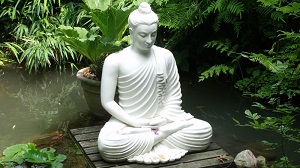 The sacred relics include two holy bone relics of Lord Buddha, a golden casket containing the relics and a stone reliquary in stupa shape. The relic casket of steatite with a miniature gold casket inside, containing holy bone relics were discovered near the Dharmarajika stupa in Taxila Pakistan, said a press release received here Sunday.
Dharmarajika stupa is the earliest and the largest Buddhist religious complex at Taxila. It is situated on the bank of Dharma rivulet. It was built to enshrine the redistributed holy relics of the Buddha by the famous Mauryan king Asoka the great who was also known as Dharmaraja for his services to Buddhism. Thus it is named Dharmarajika.
It was Poson Full Moon Poya day in the 3rd century BC that Buddhism was introduced to Sri Lanka by Arahant Mahinda, son of Emperor Ashoka who had become a Buddhist monk. This momentous event celebrated in Anuradhapura in Sri Lanka's North Central Province, which has since then, became the focus of Poson Poya religious observances each year.
Anuradhapura is one of the ancient capitals of Sri Lanka, famous for its well-preserved ruins of ancient Sri Lankan civilization. It was the third capital of the Kingdom of Rajarata, following the kingdoms of Tambapanni and Upatissa Nuwara.
The city, now a UNESCO World Heritage Site, was the center of Theravada Buddhism for many centuries. During the exposition of holy relics in Anurdhapura, hundreds of thousands of devotees are paying homage and performing their religious rituals.
TOP