Sri Lankan President meets Malaysian King, visits Buddhist Temple
ColomboPage News Desk, Dec 17, 2016
Kuala Lumpur, Malaysia -- Sri Lankan President Maithripala Sirisena, who is on a three-day visit to Malaysia from Thursday, met with the King of Malaysia Sultan Muhammad V on Friday.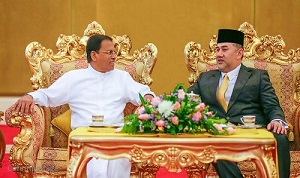 The official meeting between President Sirisena and the newly sworn-in King was held at the Palace of the King. President Sirisena who arrived in the palace, was warmly welcomed by the King Sultan Muhammad.
During the discussion, the Malaysian King praised the activities of the new government of Sri Lanka. He also commended the manner in which the consensual government functions.
The Malaysian King further said that he had directed the Malaysian Government to give every required support to Sri Lanka. He offered the best wishes for the future activities of the Sri Lankan government.
President Sirisena explained the actions taken by the consensual government on reconciliation, amendment of the constitution and the economic development. Thanking the Malaysian government for the assistance provided to Sri Lanka, the President expressed his confidence about the assistance that would be given by the government of Malaysia to achieve Sri Lanka's future development goals.
President Sirisena and his delegation visited Brickfields Buddhist Temple in Malaysia Saturday and met the Chief Incumbent of the temple Ven. Kirinde Sri Dhammarathana Thero, looking into his well-being.
The Chief Incumbent and the Buddhist monks chanted Pirith and blessed the President.
The Brickfields Theravada Buddhist Temple has been established by the Sinhala Buddhist people who live in Kuala Lumpur. The current Chief Incumbent of the Temple Ven. Kirinde Dhammarathana Thero was offered the post of Chief Sangha Nayaka of Malaysia in 2007.
TOP