This Vesak celebration will be like no other
By Rajitha Weerakoon, Sunday Times, May 7, 2017
Colombo, Sri Lanka -- As Sri Lanka prepares to host the UN Day of Vesak, Ven. Daranagama Kusala Dhamma Thera recalls the efforts of late Foreign Minister Lakshman Kadirgamar to make this day a reality and the events planned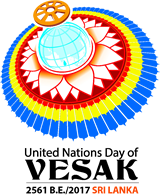 Vesak which marks the Birth, Enlightenment and the Parinirvana of the Buddha, is commemorated as no other religious event in Sri Lanka. This year, which is the 2561st year after the Passing Away of the Buddha, Sri Lanka hosts the United Nations Day of Vesak thus taking Vesak commemoration to a global dimension.
Elaborate preparations are being made at the Sri Sambodhi Vihara, R. G. Senanayake Mawatha (formerly Gregory's Road) Colombo 7 where Chief Incumbent Ven. Daranagama Kusala Dhamma Thera is using all available resources to make the event a meaningful and spectacular Vesak commemoration.
Identifying the late Foreign Minister Lakshman Kadirgamar as the architect of the United Nations Day of Vesak, the Thera recalled that it was Mr.Kadirgamar who convinced the United Nations to accept Vesak Day as a day of Buddhist Observance. He told them that Buddha's compassion and understanding were needed for the service of humanity and in this age, His Teachings could provide the world of today with much needed guidance.
The late Foreign Minister's proposal was based on a recommendation made at the World Buddhist Conference held in Colombo in 1998. He sought and obtained the support of other Buddhist and friendly nations and presented the proposal to the United Nations General Assembly when he succeeded in convincing them of the relevance of Vesak. At its 54th session in 1999, the UN General Assembly formally acknowledged the significance of Vesak and that Buddhism, one of the oldest world religions, had contributed to the spirituality of humanity for over two and a half millennia.
Vesak since then was commemorated at the United Nations Headquarters in New York and other UN offices. Although Mr. Kadirgamar was its architect, the commemoration of United Nations Day of Vesak was given eleven times to Thailand and twice to Vietnam. Complying with the request made by the Minister of Buddhist Affairs Wijedasa Rajapakse at the last United Nations Day of Vesak in Thailand, it was agreed that Sri Lanka hosts the event this year.
Ven. Kusala Dhamma Thera who was a close associate of the late Foreign Minister explained that it was Mr. Kadirgamar who wanted it named as United Nations Day of Vesak. And he wanted it as a Day of Vesak Observance and not as a holiday. The UN as a result, every year, marks Vesak by holding a Buddhist programme. Last year, it was the erudite American monk Bhikkhu Bodhi, ordained in Sri Lanka, who was invited to give the Message of the Doctrine to the world at the UN.
Ven. Kusala Dhamma Thera said that although the first World Buddhist Conference was held in Sri Lanka in 1998, Thailand was made its headquarters and the World Buddhist Conference continued to be held there. Lakshman Kadirgamar, took it upon himself to announce to the world that Sri Lanka had been a country which practised Theravada Buddhism for over 2500 years and it is still Theravada Buddhism which is the original form of Buddhism that exists here. Sri Lanka besides is continued to be identified as the foremost country in Theravada Buddhism. Even Dalai Lama had acknowledged this fact. The Ven. Thera as a tribute to the late Minister for the invaluable service he rendered to Buddhism, will set up a Buddhist library with books written in English at the Sanghabodhi Viharaya on United Nations Day of Vesak.
The highpoint of the United Nations Day of Vesak will be the symposium at the BMICH from May 12-13 which will be attended by over 750 delegates from over 100 countries including learned Buddhist prelates, religious leaders and over 850 local visitors. The opening ceremony on May 12 will be attended by foreign dignitaries such as the Indian Premier Narendra Modi and Nepali President Bidhya Devi Bhadari among others. President Maitripala Sirisena and Prime Minister Ranil Wickremesinghe will be among them. The closing ceremony on May 14 will be held in Kandy when the "Mahanuwara Declaration" will be inked in the precincts of the Dalada Maligawa. A special exposition of the Sacred Tooth Relic will be held for the dignitaries.
In a world divided by race, ethnicity, religion, caste et al which has led to chaos and the world in crisis, the theme of the symposium "Buddhist Teachings for Social Justice and Sustainable World Peace" could not have been more appropriate. Says Venerable Kusala Dhamma Thera that the Buddhist view of equality of humanity is relevant today as it was 2600 years ago when the Buddha expounded that irrespective of caste, class or ethnicity, all people were equal. It is not birth that defines a person but his conduct towards fellow humans.
The symposium will have four sub themes – Social and Natural Justice from a Buddhist Perspective, Inter-religious Understanding of a Common future for human kind, Buddhist Forum for Economics, Promotion of Cultural Tourism and International Buddhist Media Network. Venerable Thero's fervent hope is that the deliberations made during these sessions will be taken back by the participants to their countries and these would help find solutions to world peace.
The commemoration of United Nations Day of Vesak will also showcase Sri Lanka's history and development of Buddhism, prominent cultural scenarios and milestones. Towards this end, thousand stalls down R.G. Senanayake Mawatha had been given over to leading Buddhist organisations and Buddhsit schools to undertake this task. Starting from Mahinda Thera who introduced the Buddhist Doctrine to Sri Lanka these stalls will depict the roles played by Lankan Monarchs who patronised Buddhism, landmark events during Anuradhapura and Polonnaruwa periods to date and of Buddhist leaders, local and foreign which include Anagarika Dharmapala, Walisinghe Harischandra, Gunapala Malalasekere, Sir D.B. Jayatilleke and Tibetan monk S. Mahinda Thero among them.
The tenth anniversary of "The Buddhist" – the non-profit, 24 hour, exclusively Buddhist TV channel coincides with the United Nations Vesak Day and its founder Venerable Kusala Dhamma Thera has lined up several events to mark the anniversary. The Mahanayake of the Asgiriya Chapter is scheduled to declare open a new studio in "The Buddhist" channel. A pooja will be conducted to 5,13,000 Buddha statues which will be placed in the Sri Sambodhi Vihara. 1008 bhikkhus will be given alms with 28 vegetable dishes. Its merit will be bestowed on late Buddhist leaders.
A Vesak perahera is will commence from the Sambhodi Vihara on May 13 and parade through R.G. Senanayake Mawatha to the Nelum Pokuna roundabout ending at Musaeus College.
This year's state Vesak Festival will be held at Wattarama Raja Maha Vihara in Kegalle while some of the other highlights of the UN Day of Vesak consist of a Replica of the Sakyan Kingdom to come up in Piliyandala, a Vesak zone at Diyawanna and a cultural show with the participation of several countries at Nelum Pokuna Theatre. These are besides the varied forms of Vesak art we see year in year out in homes all across Sri Lanka.
TOP