Monk behind Buddhist TV explains its mission
By Isuri Kaviratne, The Sunday Times, July 8, 2007
Colombo, Sri Lanka -- It was all done under the motto of "Peace of mind to all". Sri Lanka's first Buddhist Channel, after experiencing one week of telecast last week is all equipped to continue, Daranagala Kusaladhamma Thera, Chief Incumbent of Sri Sambodhi Viharaya said.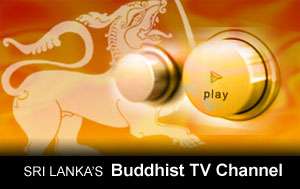 "The main thinking behind the starting of the channel is to promote Buddhism and Buddhist culture. That's why we coincided the launch with the day before Poson, when Sinhala Buddhist culture and way of living first saw the light of day more than two thousand years ago," Kusaladhamma Thera said.
The 24-hour television channel 'The Buddhist' came into being as a result of an agreement between Ven. Kusaladhamma Thera, Chief Justice Sarath N. Silva and the Dialog Company.
"The Government has no direct involvement in it though they helped us in various ways", Kusaladhamma Thera said.
'The Buddhist' which has a full coverage over the country is being telecast to India, Myanmar, China, Thailand, Pakistan and Bangladesh as well. English and Sinhala are used as the main languages. Kusaladhamma Thera said that they plan to promote Buddhism in Western Countries as well through the channel by widening its coverage.
Apart from the local support, associations like the Chinese Buddhist Association and several other organisations have given a helping hand towards the commencement of the channel. Speaking of the intentions behind starting 'The Buddhist' channel Kusaladhamma Thera said that other religions have nothing to worry about the Buddhists starting a TV channel to uphold Buddhism.
"The Constitution of this country states that priority should be given to Buddhism. And 70% of the citizens of the country too are Buddhists. We don't practise conversions nor do we condemn other religions through the channel. We are doing it in a very justifiable way", the Thera added saying that non-Buddhists have nothing to worry about the channel.
"Even Lord Buddha had asked to accept things if only they appeal to our knowledge. That's what we practice", the Thera said.
A committee headed by Kusaladhamma Thera and CJ Sarath N. Silva is in charge of selecting the programmes and the patron of the channel, Sri Lanka Dialog have come to an agreement not to run any advertisements as profit making is not included in the channel agenda.
"We will run a small notice as to who sponsored the programme but other than that there won't be any advertisements", Kusaladhamma Thera told The Sunday Times. The General Manager Sales and Marketing of the Dialog Telecom N. Perera said that the motive behind starting the channel was not profit oriented so they decided not to have any commercial advertisements.
"The reason is religious. So, we agreed not to put any advertisements", he said.
Official website: http://www.siyatha.com/information/about-siyatha-tv-5/