Sri Lanka monks complain of government pressure
AFP, Feb 20, 2010
COLOMBO, Sri Lanka -- Sri Lanka's top Buddhist monks called off a special gathering this week because of government pressure, a spokesman said Friday, while the opposition said bomb threats had been involved.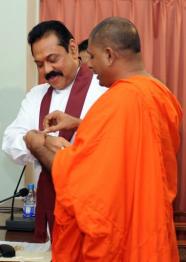 << Sri Lankan President Mahinda Rajapakse receives blessings from a fellow candidate and Buddhist monk
The Buddhist leaders had planned to meet on Thursday to discuss a strategy for pressing the government to release defeated presidential candidate Sarath Fonseka, who was arrested just weeks after contesting last month's elections.
But the gathering at the Temple of the Tooth in the central city of Kandy was called off a day before, with the monks citing concerns for their safety in the "current political climate".
Elaborating Friday, one of their spokesmen, Athangane Ratanapala, said the paramount Buddhist cleric, Thibbotuwawe Sumangala, had been subjected to "severe stress" ahead of the scheduled gathering.
"Many individuals representing the government as well as some members of the clergy who are working for the government used tremendous pressure on us to stop our meeting," Ratanapala said.
Opposition leader Ranil Wickremesinghe went further, telling reporters in Colombo that specific threats had been made.
"They had been told that there could be bomb blasts at the Temple of the Tooth if they go ahead with the meeting," Wickremesinghe said.
There was no immediate comment from the government, which has maintained that it was not influencing the clergy.
The monks had been sharply criticised in the state-run media for dabbling in politics after they sent a letter to President Mahinda Rajapakse condemning former army chief Fonseka's arrest and urging his immediate release.
Fonseka is currently awaiting court martial on unspecified charges of conspiring against the government while he was head of the army.
TOP