Sri Lanka's lifeline
The Star, April 3, 2010
Colombo, Sri Lanka -- Nothing prepared us for the electrifying atmosphere of the Navam Perahera Buddhist festival. Some say it is Sri Lanka's answer to Brazil's Mardi Gras — minus the raunchiness.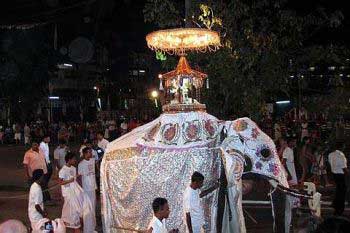 << The Navam Perahera with an elephant carrying a statue on its back.
From the main road to the inner street where Gangaramaya Temple is situated, we saw fire dancers, flag bearers, elephants in richly-designed attire, drummers, flautists and participants cracking whips marching in to show off their skills and colourful costumes.
The elephants came extravagantly dressed and heavily accessorised, their hind legs chained to keep them under control. Following in the gentle giants' footsteps were artistes who mesmerised the audience with dances, masks and costumes.
According to Gangaramaya Temple's chief incumbent Venerable G. Gnanissara Thero, Navam Perahera is organised every February on a full moon to commemorate the day the Buddha made Saripuththa and Moggalana — two of his greatest followers — his disciples some 2,560 years ago.
"For 32 years, our temple has been organising this," said Gnanissara. "Our aim is to woo the tourists while also preserving Sri Lankan culture. The festival also provides a lifeline to many artistes involved in this trade."
A total of 2,500 dancers, 125 monks and 52 elephants took part in the procession which lasted well over two hours. That's how big a deal the festival really is!
According to a book entitled Gangaramaya, A Temple, A Legacy, the 70s was a tough period for everyone and the country struggled with unemployment, unrest among the youth and economic hardship. Various cultural programmes were affected as a result of this, and many craftsmen and performers found themselves jobless.
This led to them selling off their instruments and masks to tourists and turning to other jobs.
"In 1979, the Gangaramaya Temple decided to commence a new Perahera that would provide jobs for the artistes, while family members of the artistes were taken care of. Wives were given sewing machines to make the costumes and children were given books to continue their studies. This changed the lives of those who took part in the Perahera and created an environment which is safe for anyone to be part of," one passage in the book explains.
Today, Navam Perahera is a resounding success and a much-anticipated festival that fuses religion and culture.
TOP