Sri Lankan Minister Allegedly Desecrated, Decapitated, And Urinated In Front Of Buddha Statue
By Nirmala Kannangara, The Sunday Leader, Apr 4, 2010
Dambulla, Sri Lanka -- As intra-party fighting among candidates of the governing alliance intensified with days to go for the general election, senior Minister Janaka Bandara Tennakoon and his son are being accused of vandalising a Buddha statue.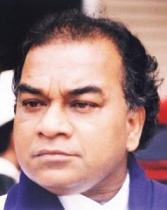 << Janaka Bandara Tennakoon
The Minister for Local Government and Provincial Councils and his supporters, including his son, Provincial Councillor Pramitha Bandara Tennakoon, are being accused of desecrating a Buddha statue in Elamalpotha in Dambulla on March 26 because the Buddhist shrine was opened at a ceremony attended by another candidate of the ruling United People's Freedom Alliance (UPFA).
A police complaint was lodged with the Galewela Police on March 26 by villagers in and around Elamalpotha.
In what appears to be more fall-out from intra-party fighting, UPFA Matale District candidate Lakshman Vasantha Perera said that the incident happened because he had participated at the opening of the Buddhist shrine. Vasantha Perera, opposition politicians and the Chief Incumbent of the Dambulla Rajamaha Viharaya, Inamaluwe Sri Sumangala Thero, are vociferous in their condemnation of the attackers.
The Chief Monk told The Sunday Leader that supporters of Tennakoon had urinated near the Buddhist shrine before they damaged the Samadhi Buddha statue.
"He chose to do this indecent act to get revenge against his fellow party candidate," the monk said, adding that Tennakoon has a notorious reputation for carrying out assaults, intimidation and even murder.
"This aside, how could a sensible person, be they a Buddhist or a non-Buddhist, come down to such depths to urinate in front of the Buddhist shrine and then damage the statue of Lord Buddha?" Sri Sumangala Thero asked. "When there was evidence that Tennakoon too was involved at the attack, only a few were taken into custody and the next day they were released on bail without any charges."
Chief Priest Sri Sumangala Thero, local politicians and villagers accuse Tennakoon of damaging the Buddha statue. They ask what people could expect from such a politician if elected to parliament.
"If the government could deny a visa for the US R&B singer Akon and could imprison Sri Lankan-born Malani Perera living in Bahrain for publishing two books allegedly offensive to Buddhism, why cannot the police take Tennakoon into custody for attacking a Buddhist shrine and damaging a Buddha statue?"
Lakshman Vasantha Perera asked. "These are double standards. People should teach such candidates a good lesson at the forthcoming election by not voting for them."
The Thero also charged Tennakoon of assaulting a group of people deployed by him to paste posters of a religious ceremony to invoke blessings on the people.
"I organised a religious ceremony with the participation of 500 Buddhist monks last Friday," said the Thero. "I deployed a group of people on Thursday in and around Dambulla to paste posters of the event. By mid-afternoon Tennakoon's security and some STF officers had come and assaulted my people and stabbed one person, seriously wounding him. He is now at the Dambulla hospital."
The Thero alleged that the police have failed to uphold justice, saying that the Police Department was the most corrupt institution in the country.
All attempts to contact Minister Janaka Bandara Tennakoon to get his side of the story failed. However, his wife told The Sunday Leader that the allegations were levelled against her husband and son because they are prominent politicians in the area.
"Both my husband and son are very popular in the Matale District, and those who make these allegations are jealous of them," she said. "They are conducting a peaceful campaign in the district."
Police Spokesperson SP Prashantha Jayakody told The Sunday Leader that he was not aware of any such complaints against Tennakoon.
TOP