Sri Lanka arrests Buddhist monks over Fonseka protest
By Charles Haviland, BBC News, April 8, 2010
Colombo, Sri Lanka -- Sri Lankan police have arrested 12 Buddhist monks who were demonstrating against the detention of the opposition politician, Gen Sarath Fonseka.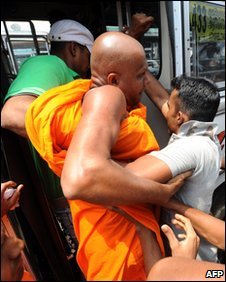 << A Buddhist monk is forcibly removed from a demonstration in Colombo 5 April 2010. The arrested monks belong to a left-wing nationalist party
Late on Monday, a police spokesman told the BBC the monks would shortly be freed, but this could not be confirmed.
The arrests in the capital Colombo are another episode in the bitter fall-out of the so-called Fonseka affair.
The government incarcerated Gen Fonseka, the former army chief, after he lost the January presidential poll.
'Disgraceful'
He has now been two months in detention and a group of monks decided to vent their anger by demonstrating outside the city's main station.
Four had started a hunger strike on Sunday urging his release.
The police - including several in plain clothes - arrived to arrest the monks and, when they resisted, manhandled them to bundle them into vans.
The police spokesman said they had been obstructing people and that they were later taken to a magistrate while the hunger-strikers went to hospital.
The monks' lawyer, Nuwan Bopage, said the fundamental right to protest was being breached in a "disgraceful" way.
Tuesday will see the resumption of the court-martialling of Gen Fonseka on charges of unlawful political involvement while in uniform and of irregular procurement practices.
In spite of this, the retired general is standing in Thursday's parliamentary election.
Buddhist monks come from the Sinhalese ethnic majority and many are politicised.
A large number support the government, but those just detained are affiliated to a left-wing nationalist party which is now aligned to Gen Fonseka.
TOP