Vesak in Sri Lanka
by Dr. Tshokey Dorji, Kuensel Online, May 31, 2010
Lord Buddha's parinirvana celebrated in Colombo
Colombo, Sri Lanka -- Doechen Nga Zom, Lord Buddha's parinirvana is also celebrated as Vesak in Sri Lanka, a Theravada Buddhist country like Myanmar, Thailand and Cambodia.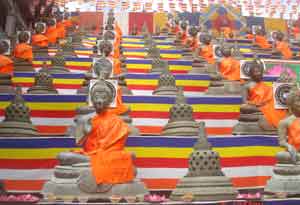 The difference between our celebrations is that, while we have five occasions, Sri Lanka has only three - birth, enlightenment and death of Lord Buddha.
Vesak is a countrywide celebration and a two-day official holiday. All government and private offices, schools, hospitals and even private residential houses are decorated with Buddhist flags, colourful lamps and lightings.
Temples are fully decorated and crowded with devotees. Streets are also flooded with flags and religious posters throughout the country.
Vesak is celebrated as a religious and a cultural festival on the full moon of the month of May, for a week during which time selling of alcohol and flesh is usually prohibited; with abattoirs also being closed.
Celebrations include various religious and alms giving activities. Electrically lit pandals called toranas are erected in various locations in Colombo city and elsewhere; most sponsored by donors, religious societies and welfare groups.
Each pandal illustrates a story from the 550 jataka katha or past life stories of the Buddha. Colourful lanterns called Vesak koodu are also hung along streets and in front of homes to signify the light of the Buddha, the Dharma and the Sangha.
Groups of people from all walks of life walk along the street until late at night, visiting various stalls, eating and drinking from the food stalls along the road. Food stalls set up by Buddhist devotees, called dansälas, provide free food and drinks.
Groups of people from various community organisations, businesses and government departments sing bhakti gee or Buddhist devotional songs. During the week of celebrations, Colombo experiences a massive influx of people from all parts of the country.
TOP