Buddhist Ladiesí College commemorates 56th Founderís Day
The Sunday Times, June 6, 2010
Colombo, Sri Lanka -- Buddhist Ladies' College (BLC) one of the premier government approved schools in Colombo, commemorates its 56th year marking Founder's Day, while focusing on the educational needs of the new generation.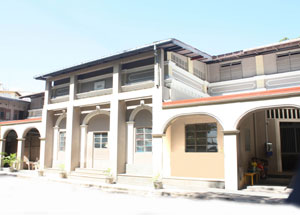 BLC was founded by an illustrious son of Sri Lanka, the late Mohandas De Mel, an educationist and lawyer by profession, who strived to maintain the family tradition of inculcating the Buddhist philosophy through education.
His father, the late proctor Harry De Mel who was called "The Lion of the Bar " at the Law Courts in Avissawella founded the first Buddhist swabasha school in his home town in 1898 and also launched the first Buddhist English school.
In 1940 Mohandas De Mel founded Sitawaka Vidyalaya at Avissawella for higher education, a mixed school which was later handed over to the government.
There was a need for Sinhala Buddhists to educate their daughters in Colombo with hostel facilities and Mohandas De Mel was motivated to plan out the future of Buddhist Ladies' College. The school was launched on Dharmapala Mawatha Colombo 7 on May 20, 1954. Mr. De Mel's wife and co-founder Bernice De Mel, a product of St. Bridget's Convent ensured the smooth operation of the hostel and was the livewire behind the scenes.
The founder Principal leading educationist Clara Motwani played an active role in establishing BLC as a leading girl's school in keeping with its motto, 'The Utmost for the Highest.' At the time of its founding it was the only Buddhist private school with a Buddhist principal
BLC began with 300 hundred students on roll and a tutorial staff aimed at building a nation of educated, civic minded citizens. It has succeeded in bringing up generations of students who have given back to society, academics and professionals to serve in every department from law to medicine to the performing arts. Messrs. Mohanlal de Mel, Deepthi de Mel and J.M.U. B. Jayasekera steer the institution, maintaining standards in quality education.
Buddhist Ladies' College caters to all communities. At present the school has 800 students from the Montessori to primary to grade 13 and follows the syllabus of the Education Department under the guidance of present Principal Malani Kotelawala. Distinguished past pupils include Somalatha Subasinghe, Indunil Dissanayake, Dr. Geethanjali Senanayake, Deepani Silva, Malini Nammuni, Sunethra Taldena, Sita Hapuaarachchi, Disna De Silva, Major General Jagath Dias to name a few.
TOP