Sri Lankan monks walk to war-scarred cities
UCANews, June 29, 2010
Jaffna, Sri Lanka -- Sri Lankan Buddhist monks have made a peace pilgrimage to the nation's war-scarred North.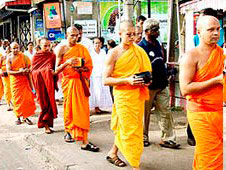 << Sri Lankan monks walk to war-scarred cities thumbnail
Buddhist monks walking with their alms bowls (file photo)
The monks took their message of love to the mainly Hindu northern Tamil region to celebrate 'Poson Day', which marks the coming of Buddhism to Sri Lanka with Arahant Mahinda in the 3rd century BC.
Hundreds of Buddhist monks met with government soldiers, who are mostly Buddhists, and with resettled Tamils, who are mostly Hindus and Christians.
On their visits, the monks sympathized with villagers who had lost loved ones, homes and places of worship.
"Buddhism teaches that solutions to our problems are within ourselves," Buddhist devotee Sunil Wijetilleke, 58, who joined the pilgrimage, told ucanews.com.
Father Arulanandam Johnaly Yavis, president of the Jaffna diocesan priests union and head of the Caritas human development center in Kilinochchi, praised a medical camp organized in the town by the Buddhist monks.
"Several hundred people benefited from the camp because most local hospitals were battered in the war," Fr Yavis told ucanews.com.
Many local Christians joined with the Buddhist monks in alms giving (Dansala) and serving food to the poor at the Poson festival.
In another bid to build relations with the local community, the Sri Lankan government plans to hold its July Cabinet meeting in Kilinochchi. Several police stations are also to be opened in the north.
State Minister Patali Champika Ranawaka donated a number of books to the Jaffna Library on behalf of his Buddhist political party. He also apologized to the Tamil community for the 1981 burning of the Jaffna Public Library.
Meanwhile, Sri Lanka and India plan jointly set up an International Buddhist University in Madhya Pradesh to boost cultural ties between the two countries.
TOP