Buddhists find Lee's expression of regret lacking
The Hankyoreh, September 10, 2008
Buddhist groups continue to call for police chief's dismissal and move ahead with plans for large-scale meeting in Daegu
Seoul, South Korea -- President Lee Myung-bak expressed regret on September 9 over the "religious bias" shown by government officials. Buddhists praised Lee's statement for its sincerity, but are still strongly demanding that Korea National Police Chief Eo Cheong-soo be sacked, focusing attention on whether Buddhists will hold regional rallies after the Chuseok holiday.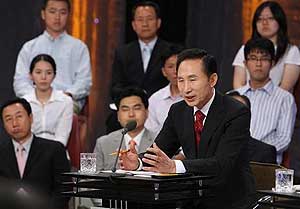 >> President Lee Myung-bak answers questions from a citizen panel during the program "Dialogue with the President" as aired by Korean Broadcasting System on September 9.
In a Cabinet meeting at Cheong Wa Dae on Tuesday, Lee said he deeply regretted that Buddhists' feelings had been hurt due to statements and actions by some officials that caused misconceptions of religious bias.
About the police search of the car of Ven. Jigwan, the chief executive of the Jogye Order of Korean Buddhism, Lee said he has ordered Police Chief Eo to visit Buddhist leaders and apologize, saying that whatever the circumstances, Eo had offended a Buddhist leader, so he should visit them to apologize and convey that such incidents would not happen again.
At the meeting, Lee said he hoped that through legal measures from amendments to civil servant regulations, he could eliminate misperceptions of religious bias, and that Culture, Sports and Tourism Minister Yu In-chon needed to study additional legal and systemic measures so that the religious bias issue does not become a controversy again.
Lee stated that a proposed presidential decree amending civil service regulations to ban religiously biased activities would be pushed as a priority amendment. Accordingly, by adding an article to the regulations banning religiously biased activities, biased statements and actions by civil servants will become punishable in the future.
Buddhists, however, believe Lee's measures to be insufficient, noting that he has yet to accept their other demands, namely, the sacking of Police Chief Eo, the legislation of a law to eradicate official religious bias and measures to bring harmony to the people. Ven. Wonhak, who heads the Buddhist committee leading the protests, held a press conference at the Jogye Order headquarters in Seoul on September 9.
He praised Lee's proposed amendments to the civil service regulations and his expression of regret as "a more sincere attitude than before," but that he hoped the president and his administration would accept the Buddhists' other three demands with more sincerity. He said he would do all he could to see this realized, using the wisdom and energy of the Buddhist community.
Accordingly, the committee decided to proceed as planned with a meeting at Daegu's Donghwasa Temple scheduled for today to discuss whether to hold Buddhist rallies in Daegu and North Gyeongsang Province.
This meeting will be attended by the leaders of Korea's four largest Buddhist orders, including Jogye Order chief executive Ven. Jigwan, Taego Order chief executive Ven. Unsan, Cheontae Order chief executive Ven. Jeongsan and Jingak Order head Ven. Hoejeong.