Spontaneous prayer gatherings across the Tibetan plateau for quake victims
The Buddhist Channel, May 22, 2008
Lhasa, Tibet (China) -- Spontaneous prayer gatherings have been held in monasteries across the Tibetan plateau for victims in the earthquake affected areas. The temples have also collected money and donated materials for the relief work.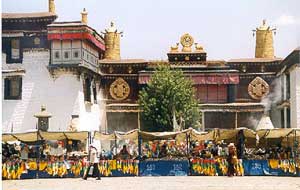 << Jokhang Monastery in Lhasa
According to the British charity the Tibet Foundation, these monasteries include: Drepung Monastery in Lhasa, Longwu Temple in Kumbum County, Qinghai Province, Ger Den Temple in Ngaba Tibetan Autonomous Prefecture in Sichuan Province, Kumbum (Chinese: Ta'ersi) Monastery in Kumbum County (Chinese: Huangzhong) in Tsoshar (Chinese: Haidong) Tibetan Autonomous Prefecture, Qinghai Province, Lithang Monastery in Lithang County (Chinese: Litang) in Kardze (Chinese: Ganzi) Tibetan Autonomous Prefecture, Sichuan Province, Xi Busha Temple and Xia Deray Temple, both in Tsekhog County (Chinese: Zeku) in Malho (Chinese: Huangnan) Tibetan Autonomous Prefecture Qinghai Province, and Rong-an Temple in Chentsa County (Chinese: Jianzha), Malho Tibetan Autonomous Prefecture, Qinghai Province, as well as many monks at other temples.
The Jokhang Temple in Lhasa, which the authorities have just reported as being re-opened, also held a service and collected donations. A senior lama in Qinghai, Alak (an honorific title, meaning 'lama') Khaso, who had been beaten and injured by police during unrest in Rebgong (Chinese: Tongren) County, donated 10,000 yuan ($1,436) to quake victims.
Alak Khaso, the former head of Rongwu Monastery in Tsolho (Chinese: Huangnan) Tibetan Autonomous Prefecture, had suffered maltreatment after he sought to mediate between police and local monks during an incident of unrest at Rebgong on April 17. Armed police raided Rongwu Monastery and confiscated pictures of the Dalai Lama after monks staged a protest, calling for the release of other monks detained following earlier demonstrations and incidents of dissent in the area in February and March. Monks were seen being taken away from the monastery with their hands tied behind their backs and being loaded onto trucks.
Mary Beth Markey, Vice President of International Advocacy at the International Campaign for Tibet, said: "The extent of the prayer ceremonies is remarkable at this time of crisis in Tibet and reminds us of the reason that the survival of the Tibetan Buddhist culture is so important. The extraordinary message from the Kirti monks is one of compassion and reconciliation right from the heart of one of the monasteries that endured the worst of the crackdown."
Karma Hardy, Director of the Tibet Foundation in London, which has launched an emergency appeal to help earthquake victims, said: "It is part of monks' practice and traditional role to make offerings and to pray for the souls of those who have died, and these prayer ceremonies are genuine expressions of compassion for the thousands of Chinese affected by this terrible disaster. Tibetan monks in the area may well have been willing to do much more on the ground - during the tsunami in 2004, for instance, Tibetan monks in exile in India participated in practical rescue work. But given the wide-ranging crackdown on the plateau at present and the fact that many Tibetans are prevented from leaving their monasteries, it is unlikely that this would be permitted now in Sichuan." (http://www.tibet-foundation.org/tf/donate.php).
The Chinese state media sought to convey an impression of political normalcy and unity through reporting on one of these prayer ceremonies, at Kumbum (Chinese: Ta'ersi) Monastery in Huangzhong County, Qinghai. A Xinhua report yesterday stated that: "A 35-by-25-meter portrait of Tson-Khapa, founder of the Gelug Sect of Tibetan Buddhism, was gradually unfurled while nearly 10,000 Tibetans and about 400 lamas prostrated themselves and prayed for peace for the people in Sichuan and other quake-hit regions."
His Holiness the Dalai Lama sent a message of sympathy to the Chinese people a day after the earthquake struck Sichuan, saying: "I am deeply saddened by the loss of many lives and many more who have been injured in the catastrophic earthquake that struck Sichuan province of China. I would like to extend my deep sympathy and heartfelt condolences to those families who have been directly affected by the strong earthquake on 12 May 2008. I offer my prayers for those who have lost their lives and those injured in the quake."
TOP