Taiwan's Buddhist Master Sheng-yen dies
The Buddhist Channel, Feb 3, 2009
TAIPEI, Taiwan -- Taipei - Sheng Yen, one of Taiwan's four most respected Zen Buddhist masters, died of natural causes at the National Taiwan University Hospital Tuesday at the age of 79.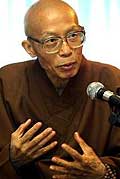 << Venerable Master Sheng-yen
"He died of multiple organ dysfunction syndrome at around 4 pm (0800 GMT)," said a spokesman of the Dharma Drum Mountain, a Zen Buddhist centre established by the eminent monk.
Rated as one of Taiwan's 50 most influential people in 400 years, Sheng established the mountain retreat in Taipei County in 1989 to promote Zen Buddhism.
President Ma Ying-jeou said in a statement he was "saddened and shocked upon hearing the news" about the death of Sheng-yen, who the president said is "good at the use of language to touch people".
"The concept of spiritual conservation he advocated is not only religion but philosophy and attitude of living," Ma said, referring to the monk's relentless efforts to press for peace and a simple way of living.
"He was a highly valued and much respected master in Taiwan and we feel a big loss for his death," said Su Jun-pin, spokesman of Premier Liu Chao-shiuan.
The late master had hundreds of thousands of disciples, ranging from ordinary people to politicians and celebrities. Both incumbent President Ma Ying-jeou and his predecessor Chen Shui-bian sought advice from the master.
Born in a poor farming family in 1930 in eastern Jiangsu Province, Ven Sheng Yen became a monk at the age of 13 and went to Taiwan in 1949 after the civil war.
He joined the Kuomtiang army in 1949 and fled to Taiwan with the Kuomintang troops after they were defeated by the Chinese communist forces at the end of a civil war.
At the age of 39, he went to Japan for religious study and earned a master's degree and doctorate after six years of study.
He became a monk again in 1959 and trained in solitary retreat for six years in southern Taiwan. He completed a master's degree in 1971 and doctorate in Buddhist literature in Japan in 1975.
He became abbott of Nung Chan Monastery in suburban Taipei in 1979 and in 1989 founded the International Cultural and Educational Foundation of Dharma Drum Mountain.
As a Buddhist Zen school master, he taught a number of celebrities, including Chinese martial arts actor Jet Li as well as Lin Hwai-min, founder and artistic director of Taiwan's Cloud Gate Dance Theatre.
Sheng taught dharma principles in the US, where he set up a meditation centre in New York in 1979, which earned him renown.
In the following years, he worked to promote Chan Buddhism at home and abroad. He had become a professor at the "Chinese Culture University," deputy director of the Buddhist Association of the United States and founded the Chung Hwa Institute of Buddhist Studies.
Master Sheng Yen visited mainland China several times for religious exchanges.
After the deadly May 12 earthquake last year, he was actively engaged in quake relief work. The Dharma Drum Mountain planned to help rebuild four schools, a hospital, a water plant, a new village and set up a scholarship to fund children in quake-hit areas to finish the primary and secondary education.
TOP