A Buddhist tradition takes root in Bendigo
by S. MUTHIAH, The Hindu, Apr 17, 2011
The fastest growing religion in Australia is Buddhism, and its roots have been traced back to Sri Lanka. But the question is will it sustain?
Bendigo, Australia -- The biggest stupa outside the countries with a significant Buddhist presence is being built in Bendigo, not far from Melbourne.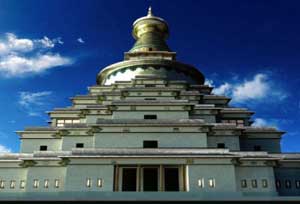 << Future look: A 3-D model of The Great Stupa.
Don Samsons Abeygunawardena and I began our careers in Journalism at the same time, in 1951. He left ten years later to work with the Ceylon Tea Board in Australia, then with Horizon, the Australian Government's look at the cultures of fellow Commonwealth nations, and finally with the Sri Lankan High Commission.
When I caught up with him in Canberra recently, he still hadn't changed; he had had a seat next to mine in Colombo where he'd work away looking as serious as a judge, but suddenly he'd look up and bowl a googly that would startle the whole room – and he was still at it.
Growing interest
Having a leisurely breakfast with him one morning recently, talking about the state of play in what was once our home, he suddenly asked, "Do you know, Muthu, what is the fastest growing religion in Australia?" "Islam?" I hazarded a guess. "No, it's Buddhism," he announced to my surprise. And do you know, he added, the biggest stupa outside the countries with a significant Buddhist presence is being built in Bendigo, not far from Melbourne. Now that was two googlies in one over – and all I could say was "Tell me more."
It was while doing 18 months of research on Buddhism in Australia for two articles on the subject that now appear in the Cambridge University Press' massive tome The Encyclopedia of Religions in Australia that he not only came across these two nuggets but also discovered that Australia had 570 listed Buddhist organisations, including monasteries, temples, retreats, meditation centres and meeting places of Buddhist societies. And these are today patronised by a Buddhist population of a little over 400,000 (two per cent of the total population), almost double the 1996 Census count ten years earlier. Islam has only about three-fourths that number and Hinduism a third. With nearly 13 million listing themselves as Christian, this tale of Buddhism in Australia is just one of Abey's typical, but solidly fact-based, footnotes.
It's a story that begins with a boatload of Chinese arriving in Adelaide in 1851 to walk to the Victorian goldfields. Many of them were Buddhists, but of what happened to them or their faith there's no record. Better recorded is a story that Abey and I shared a few years ago, that of 500 Sinhalese Buddhists from the Galle area in southern Ceylon who came to work as contract labour in the Queensland sugar plantations. But given their urban background, they soon moved out of the plantations and found work in Broome, Darwin and Thursday Island in the pearl industry (some of their descendants are still in the jewellery business). On tiny Thursday island, the hundred or so Sinhalese families that settled there built the first Buddhist shrine in Australia. But as their descendants moved out in later years, the shrine too vanished.
The next link with Buddhism was through the Theosophists. Helene Blavatsky and Col. Henry Olcott, who had formally converted to Buddhism in 1880 in a temple in south Ceylon. Olcott spent several months on a lecture tour of Australia in 1891 and though there are many differences between Theosophy and Buddhism, his assertion at several lectures that the central aim of Theosophy was to draw attention to Buddhist philosophy led to a greater white Australian interest in Buddhism. Particularly as Alfred Deakin, a Liberal politician and later to be Prime Minister of Australia three times, was a Theosophist and chaired several of Olcott's meetings.
Despite regular visits by Theosophists and Buddhist monks to Australia thereafter, particularly after the 1950s, Australian Buddhism did not grow. But the small audiences that attended such meetings have continued to grow slowly.
Buddhism, however, registered significant numbers from the mid-1970s with the arrival of immigrants from Vietnam, Laos and Cambodia (Kampuchea). They are the largest number of Buddhists in Australia today. But there are also now a significant number of Sinhalese, Thai, Japanese and Chinese Buddhists in the country.
All three traditions of Buddhism are now to be found in Australia. Theravada Buddhism's adherents are from Kampuchea, Laos, Sri Lanka, Thailand and Myanmar, all strongly Buddhist countries. The Vietnamese, Chinese, Japanese and Koreans are the followers of Mahayana Buddhism. And Vajrayana Buddhism's adherents are the Tibetans, whose tradition is an offshoot of Mahayana Buddhism. All three traditions started out with small temples established in old houses with a priest in residence in each. But as the number of worshippers grew, temples were built and monasteries founded. But none of them will be comparable to The Great Stupa of the Foundation for the Preservation of the Mahayana Tradition when it is completed.
The Tibetan presence in Australia began in 1974 and the next year the FPMT's first centre was established. Now there are 25 centres in Australia and many more in the U.S. where the Foundation was founded. But the most important one in Australia will be the stupa for which the Dalai Lama laid the foundation in Bendigo, on June 7, 2007, The FPMT's Great Stupa of Universal Compassion will be 50 sq. m at the base, will rise to a height of 48 m. and resemble the Great Stupa in Gyantse, in southern Tibet, which dates to 1474. In the acres surroundings the Bendigo stupa there will be raised a monastery, a meditation centre, a hospice and accommodation for visitors. Bendigo itself is expected to boom with thousands of visitors anticipated every year.
Much of the focus on the Great Stupa is because of the Dalai Lama's blessings. During his five visits to Australia, he has always attracted great attention and drawn large crowds of all faiths. In some Australian eyes his stature is seen in the words of one huckster: "You missed Jesus. You missed the Buddha. Don't miss the Dalai Lama."
Older ones
Predating the Great Stupa are several monasteries. The biggest of them is the Bodhinyana forest monastery established in about 40 ha near Perth which focuses on Theravada Buddhism and has several European monks in residence.
Also near Perth is the Dhammasara Monastery for Nuns which was founded in 1998 in about 600 acres of bush forest. Two other Theravada forest monasteries are in Bundanoon off the Sydney-Canberra freeway. The Nan Tien Temple and Monastery outside Wollongong near Sydney is believed to be the "largest Buddhist temple in the Southern Hemisphere" at present. This temple complex of Mahayana Buddhism set up in 1995 features Chinese, Japanese and Tibetan styles of architecture and has a hundred rooms for visitors.
With so many different cultural practices as well as differences in the traditions of worship, it has not been easy to form "one strong ecumenical body", says Abeygunawardena. But the first steps have been taken, he adds. About 160 temples, monasteries, and societies, around 30 per cent of the total number in the country, joined together in May 2003 to form the Australian Federation of Buddhist Councils, with all the States being represented. This number will only grow, Abeygunawardena feels, if all those other Buddhist institutions, many dealing with healthcare, education and drug abuse, join.
But will the Australian-born generations born to Buddhist parents swell the number of Buddhists or will they join those increasing the statistic of those not stating a religion in the Censuses?