Lama Choedak Rinpoche apologises
by FRANCES STEWART, Canberra Times, 1 May, 2011
Canberra, Australia -- THE HEAD of Canberra's Tibetan Buddhist community has apologised to members of the society after allegations he had sexual relationships with several women from the group emerged late last year.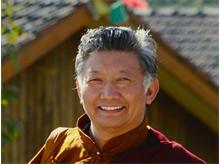 The Tibetan Buddhist Society of Canberra's leader Lama Choedak Rinpoche called a special meeting of the society in December to apologise if ''changes that his personal life has gone through have caused any confusion'' before leaving the country for a retreat in Nepal.
A number of women associated with the society contacted the Sunday Canberra Times, alleging the former monk had sexual relationships with several female group members after saying he had separated from his wife.
The women said they were shocked to discover their ''spiritual leader'' was engaged in multiple affairs within the group because Lama Choedak was considered a ''respected teacher and family man'' in the ACT branch.
The women were also able to provide documents to the Sunday Canberra Times that showed complaints about Lama Choedak's conduct were met with stern warnings from senior foreign figures in the Tibetan Buddhist movement, who said talking to the media or telling new group members what had happened could be spiritually damaging and prevent other Canberrans from ''achieving enlightenment through buddhism''.
Lama Choedak, who is currently teaching at a retreat in Adelaide, did not respond to requests for an interview from the Sunday Canberra Times, but a representative said in a statement he ''made an unequivocal apology'' to the women involved, as well as group members. The women claimed Lama Choedak warned them not to reveal his indiscretions a sentiment echoed in the organisation's statement, which said exposure could harm ''families and children as well as someone who is presently in the midst of dealing with a life-threatening illness''.
Apologising at the December meeting, Lama Choedak told his followers, ''I am making this statement today as I care about all of you, and as we need to maintain our work together for the sake of dharma and new members''.
''Due to the personal nature of this matter and the need to protect the feelings of my children and other people concerned, I ask you all to respect our privacy. I know how many broken families there are, and they all need moral support and understanding.''
Lama Choedak told the group that rather than being angry, they should use the experience to improve themselves.
''Every single one of us makes mistakes and it is up to each of us to forgive,'' he said. ''Used wisely, such personal difficulties can lead us to a stronger and more stable refuge which we find within our own hearts and and minds.''
TOP