Buddhist uni to teach karma and commerce
by NICOLE HASHAM, Illawarra Mercury, 17 Jun, 2010
Illawarra, Australia -- Spiritual wisdom will be fused with studies in accounting and commerce, when Australia's first Buddhist university opens its doors.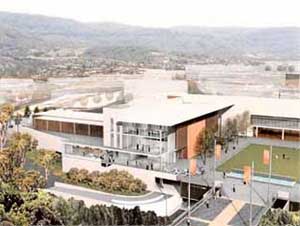 << Aussie first: An artist's impression of the proposed Unanderra Buddhist university Nan Tien Campus, which is expected to be complete by 2013.
Proponents of Nan Tien Temple's proposed campus at Unanderra have revealed details of the unique academic program as they attempt to raise the $30 million required to build the first stage of the groundbreaking institute.
Wollongong City Council has approved the initial work, which includes a 200m pedestrian bridge over the F6, to link the campus and the temple, as well as a museum, gallery, library, cafe, gift shop, teaching areas and administration buildings.
It is expected to be complete by January 2013.
The university's postgraduate program could start as early as March next year at the existing site, offering a Master of Arts in Applied Buddhist Studies.
Subjects will include Buddhism and psychoanalysis, and Buddhism and modern society, with an emphasis on contemporary issues.
The institute hopes to eventually attract 3000 students, and expand to postgraduate programs in business, environmental studies, life education and community service.
Reverend Miao You said students would learn to bring esoteric spiritual concepts into their daily lives.
"We are turning Buddhist philosophy into something practical and easy to apply into our career and family life, to be integrated into the community,"she said.
"We're not saying we've got all the answers, but our students will have a wider perspective of what life is about."
From a small seed, big things would grow, Rev You said.
"(It will bring) a higher awareness of our dependence on one another so people can become less selfish, and see that's what's good for the community will eventually benefit the world, and humanity.
"This university is not just for Nan Tien, but for the whole of Australia," she said.
Website: http://www.nantien.org.au/