Painted with a prayer
by Jamie Khoo, The Star, December 18, 2005
The age-old tradition of thangka painting remains strong within the Buddhist faith of Central Asia. JAMIE KHOO looks at how the art form has evolved and the meaning it holds for contemporary society.
Kuala Lumpur, Malaysia -- IT isn't easy to be a thangka painter. Traditionally, you can't create thangkas for sale. And you can't deviate from form and colour set down centuries ago.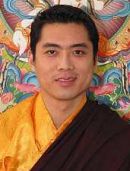 << Tsem Tulku Rinpoche says that thangkas don't have to be used for spiritual purposes but can also be viewed as works of art.
Born of a deeply embedded spirituality in the lives of Tibetans, thangkas are supposed to embody the painter's spirituality, giving every piece a personal touch that can reach out beyond the canvas with a sense of the mystical.
These painted representations of Buddhist deities were first developed as a way for nomadic travellers in Tibet to carry and keep images of the divine with them.
Thangkas are now an integral part of Buddhist practice in Central Asia, claiming as prominent a place as statues of the Buddha. It is said that even the Dalai Lama carried a thangka – that of the deity Palden Lhamo – with him when he fled Tibet in the 1950s.
In fact, because so much of the thangka tradition comes from a spiritual background, the actual painting of it forms a spiritual practice in itself.
Tibetan Lama Tsem Tulku Rinpoche, of the renowned Gaden Monastery in India, has long studied and collected thangkas. Currently residing in Malaysia, Tulku was happy to explain what thangkas from the Tibetan perspective: "These visual depictions are representations of the enlightened mind. It's like a visual scripture with paint and colour giving the full 'instructions' and 'roadmap' to enlightenment.
"Thangka painting before was not done for business. It was a practice that involved prayers and that should have been done as a way of progressing on the spiritual path."
The images of deities within thangkas are said to have been seen in mystical visions or recorded in texts by accomplished spiritual masters thousands of years ago and therefore regarded as incredibly holy, even to spiritual aspirants today. As such, the paintings continue to adhere to extremely strict guidelines on colour, form and geometric proportion to retain minute details of shape and features set down by former masters.
However, Tulku is keen to stress that thangkas do not have to be used solely for spiritual purposes. "You can collect and display them as art pieces in their own right, whatever your religion or cultural background; it does not in any way contravene any Buddhist 'codes' or practices. It certainly won't interfere in your own religious practices or the feng shui of your surroundings."
In fact, it is becoming common practice even in conservative places like Nepal to reprint thangkas in smaller sizes and reformat them as postcards or smaller art pieces. It is believed that simply having an image of the Buddha is auspicious, however you display or use it.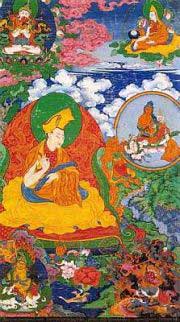 Thangkas can also feature Tibetan Buddhist leaders, >>
such as the fourth Panchen Lama, as depicted here.
Despite its firm historical and religious background, thangkas shape-shift surprisingly well and can be very easily adapted for various uses in many surroundings, even to suit today's contemporary tastes.
If nothing else, thangkas may be used for personal reflection that is disassociated from religion or spirituality. Focusing on the deities' peaceful, smiling faces alone, for example, is meant to draw out the same state of mind and sentiment within the viewer. And we could all do with a little extra calm in our lives, couldn't we?
Tulku reminds us that the motivation behind thangka painting should not be so much about exploring artistic boundaries as about painting something divine that could bring others to enlightenment.
However, artistic expression and freedom is still allowed on various levels. The proportions and detailing of the deity has to abide by exact, minute measurements but the rendition and colouring of clothing and surrounding scenery is left to the aesthetic preferences of the artist.
"You can actually do anything with the surroundings," says Tulku. "In fact, it is important to adjust the work to suit the times and people's sensibilities so you can get your message across. If you wanted, you could even paint durians surrounding the Buddha – it's unconventional but it's what might appeal to people here!"
Kechara Mystical Treasures in downtown Kuala Lumpur sells thangkas and other Tibetan artefacts. The store's manager, David Lai, adds to the idea that thangkas need not be restricted to or displayed only for religious purposes.
"Traditionally, thangkas were framed in silk brocade as an offering to the deity and hung as items of worship. However they are actually very versatile: thangkas can be set and displayed whatever way you prefer (even within very modern framing) and wherever you like – your room, office, dining room, or anywhere that you feel it evokes the most comfortable feelings of calm, reflection and peace within you."
-----------------------------------------
Kechara Mystical Treasures is on the 1st Floor, Piccolo Galleria, Jalan Bukit Bintang, Kuala Lumpur. For more information, call manager David Lai at 603-2148 0284 or 6012-323 2732.
Loh Seng Piow photographed thangkas from Tsem Tulku Rinpoche's personal collection.