Phaptawan Suwannakudt: Compelling art of the self
by Carla Bianpoen, The jakarta Post, July 30, 2009
Melbourne, Australia -- Layered texts, distant houses, plants and elephants: All these reveal the compelling life story of Thai artist Phaptawan Suwannakudt.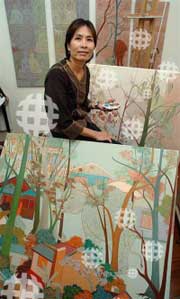 << Phaptawan Suwannakudt: Courtesy of Arc One Gallery, Melbourne
Phaptawan's seventh solo exhibition, which opened July 28 at Arc One Gallery in Melbourne, shows how the painter, renowned for her Buddhist murals, is now focusing on the self, offering a personal perspective while drawing on Thai Buddhist belief.
Phaptawan is a unique artist, not only because for more than a decade she led a large team of mostly male painters to work on massive public projects for temples and hotels throughout Thailand and became the first woman to break the male hierarchy in the temple domain.
She is also remarkable for having the courage to retain her self amid the hustle and bustle of the contemporary art scene in Australia where she settled after her marriage to an Australian in 1996.
The tile of this exhibition is "Traiphum Phra Ruang" (Three Worlds according to King Ruang), the narrative of cosmic structure in Thai belief.
The description of the three worlds, says Phaptawan, is the fundamental lead to Buddhist practice, which will ultimately get you out of Samsara and attain enlightenment.
Thai Buddhism is a way of life, and Phaptawan's oeuvre is about her way of life.
Phaptawan, who spent her childhood in the temples where her father, the famed Paiboon Suwannakudt or Tan Kudt, worked, was his unofficial apprentice for more than a decade. She retains the skills she acquired in the medium, narrative and detail of temple murals.
She says of her paintings that they are stories and interpretations that are mostly concerned with what she has made of herself, including her childhood memories and dreams.
For all the inspiration she draws from her past, however, Phaptawan stays clear of appropriating it. Rather, she has developed a very personal style to tell her personal story. In the "Three Worlds" series, scribbles form the texture of the canvas.
In fact, they are text written on other text, involving masking and peeling off, adding and erasing. The process appears to be a metaphor of her changing situations narrated as one follows after another.
In the sequence, one can see buildings placed on the canvas as if the artist were seeking to define her home amid the native Australian flora or in a desolate urban scene.
Phaptawan explains how the scribbles came about. "I instinctively scribbled down in my sketchbook the Thai names of plants found in the street in the days after I first arrived as I migrated to Sydney. This was probably an urge to try to communicate with the environment and create a mental space of my own."
Although executed in a realist mode, her paintings usually have a metaphorical context. The blossoming lotus flowers on top of a house in Three Worlds #1, for instance, may well mean a new awakening, a rebirth in her new living environment.
The image of the elephant, which appears as her self-portrait, is seen in many of her canvases. This works to lay bare her own experiences, such as in Three Worlds # 2 where two boatmen carry the elephant in their barge across the waters, or in The Elephant in the Bush denoting her confusion, and perhaps her happiness among the herd of elephants in Traveling.
But in Three Worlds #9, an atmospheric landscape overpowers the elephant, which appears as a vaguely painted image between the contours of the tree trunks.
Phaptawan travels a lot not only physically between Thailand and Australia, both of which she considers as her home countries, but also in the imagined spaces where memories and Buddhist stories come together with current experiences.
An artist whose large murals of Thai Buddhist cycles are used to revisit traditional Buddhist stories from a woman's perspective, she co-founded, with artists Nitaya Ueareeworakul and Mink Nopparat, the Womanifesto in 1996.
The biannual women's initiative eventually developed into a five-week artists' residency at the fifth Womanifesto, which she co-organized with Nataya Uaereeworakul and Varsha Nair last year at Rai Boonbandarn Farm in Srisaket, Thailand.
There, she reconnected with her ties to her ancestral home and the legacy of her father and teacher, the painter, writer, poet and choreographer Paiboon Suwannakudt.
The experience inspired her to make her monumental "sculptures", a series of fabric constructions titled Casting off Memory.
Unlike her paintings, which apply the realist mode to imagined spaces, the "sculptures" are abstract and even more intense and personal than her paintings.
Phaptawan Suwannakudt (b. 1959) graduated from Silpakorn University, Thailand, with a degree in English and German and completed a Master of Visual Arts at Sydney College of the Arts, The University of Sydney.
Since 1999, she has held seven solo shows in Sydney, Bangkok and Melbourne. She lives and works in Sydney, but keeps a studio in Bangkok.
Phaptawan travels in the imagined spaces where memories and Buddhist stories come together with current experiences.
If you go:
Three Worlds
Solo exhibition by Phaptawan Suwannakudt
Until August 22, 2009
Arc One Gallery
45 Flinders Lane,
Melbourne Victoria 3000
Australia
Tel: +61 3 9650 0589
Fax: +61 3 9650 0591
Email: mail@arc1gallery.com