Buddhist art makes plea for nature
By Wang Shutong, Global Times, June 12 2010
Beijing, China -- It's common knowledge that in ancient Chinese folk wisdom, the tiger has a negative connotation - a large, exceptionally fierce wild animal, tigers have been hunted for centuries and are now extremely endangered.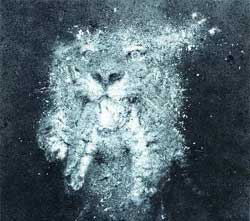 << Is that a tiger in your ash or are you just happy to see me? Zhang Huan's Free Tiger Returns to Mountains. Photo: Courtesy of Pace Beijing
However, Free Tiger Returns to Mountains, a new exhibit from Buddhist conceptual artist Zhang Huan on display at Pace Beijing, is hoping to revive this near-extinct species in a particularly striking and ironic way - by depicting them entirely out of ashes collected from joss sticks in Buddhist temples. In this way he turns his tribute to the tiger into a religious elegy.
Inspired by the unusual deaths of several tigers in the Shenyang Forests Wild Zoological Garden in Liaoning Province, Zhang decided to create the artwork to raise consciousness of tiger preservation among the Chinese populace. According to the basic concepts of Buddhist belief, all creatures deserve the same opportunities to live as naturally as possible in peace and tranquility.
"I want, to some extent, to pass the message to people that the concept of free tigers is linked to the central tenants of Buddhism," Zhang said. "Because ash represents the wishes of people who burn the sticks in memory of the dead, this artwork speaks to the souls of man as well as the souls of the dead tigers."
Zhang said he doesn't know of any other artists working with joss sticks in the same way and claims to have "patented" the technique. Though a thought-provoking and novel artistic technique, it's positively tame compared to Zhang's original idea for the exhibition.
"Our original plan was to bring in real live tigers to the gallery, where people could observe them through glass," Zhang said. "It would be like a wild zoo, where people could see how tigers live and even how they hunt for food. Due to safety rules, however, we had to abandon this idea."
Zhang said that his conversion to Buddhism five years ago brought him to "a place of peace in my mind" and inspired him to adopt a religious name, "Ciren," ci meaning mercy and ren meaning people - a combination which has had profound influence on his work.
"I want people to see the hidden meanings in my artwork, to feel peace and meditate while they are appreciating them," Zhang said. "I'm always trying to imbue my art with the genuine nature of the Buddha and his love for all living things."
If you go:
WHERE: Pace Beijing, 798 Art District
WHEN: Through July 20
CONTACT: 5978-9781
TOP