Monks killed in Myanmar crackdown
AlJazeera English News, Sept 26, 2007
Yangon, Myanmar -- Up to seven people including three monks are reported to have been killed in a violent crackdown on anti-government protests in Myanmar.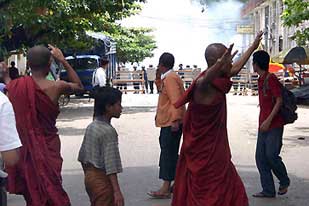 << Police have fired tear gas and warning shots in an effort to break up protests [AFP]

Riot police used tear gas and batons to disperse tens of thousands of protesters on Wednesday, bringing swift international condemnation.

A witness in Myanmar's former capital Yangon said she had seen some monks being beaten as the authorities tried to stop protesters from gathering.

A Myanmar official told AFP news agency: "According to the information that we received, at least three monks were killed."

Monks targeted
One monk was killed when a gun went off as he tried to wrestle the weapon away from a soldier, while two others were beaten to death, the official said.
His account was confirmed by a second official, who said the toll was based on official reports of incidents that took place around the Shwedagon Pagoda.
Monks are highly revered by Myanmar's majority Buddhist population.
A witness near the Shwedagon pagoda in Yangon told Al Jazeera that police armed with heavy weapons had blocked all roads leading to the area.
"It looks like there are hundreds of police with tear gas and guns," she said. "We can still hear the monks and the people chanting."
Shwedagon, one of Myanmar's most important spiritual sites, has been a focus on what, until Wednesday, had been peaceful protests.
Other witnesses reported seeing riot police beat their shields with batons as they chased some of the monks and supporters from the scene.
The violence marks the first major action taken by Myanmar authorities after weeks of escalating tensions, raising fears of a repeat of a 1988 crackdown when the military crushed a pro-democracy uprising killing thousands.
The UN Security Council will be meeting on Wednesday to discuss the situation in Myanmar, Bernard Kouchner, the French foreign minister has said.
The White House also said reports of clashes between anti-government protesters and security forces in Myanmar were "troubling" and urged the military government to respect human rights.
Gatherings banned
On Tuesday the ruling military had imposed a dusk-to-dawn curfew and banned public gatherings of five or more people.
The move came after more than a week of anti-government protests led by monks across the country - the biggest expression of dissent in the country in almost two decades.
The first-known activist rounded up after the curfew was a popular comedian famed for his anti-government jokes.
Zargana was taken away from his home by authorities shortly after midnight, reports said.
Zargana led a committee that provided food and other necessities to protesting monks along with actor Kyaw Thu and poet Aung Way, whose fates were not known.
Internet access cut
Reports from inside the country indicated that the government had also cut off internet access following the curfew announcement.
There are also unconfirmed reports that Aung San Suu Kyi, the country's democracy leader and Nobel Peace laureate who has been under house arrest, had been moved to prison.
The protests were initially triggered by a massive hike in the price of fuel on August 19, but have developed into a more deeply-rooted outpouring of dissent.
As police turned on monks near the Shwedagon pagoda, witnesses also reported seeing hundreds of soldiers and police deployed in Yangon in a city centre park near the Sule Pagoda, the focus of the biggest protests.
"They are in full battle gear and they have shields and truncheons. Since two or three days, you could see they are rehearsing anti-riot formations," a South-East Asian diplomat said of the troops deployed around the Sule Pagoda.
Government vehicles mounted with loudspeakers have been patrolling Yangon's streets saying monks had been ordered not to take part in "secular affairs" and accusing certain elements of trying to instigate unrest.
The curfew order cited a legal clause which would allow the protests "to be dispersed by military force".