Dashing hopes in Myanmar
The Economist, Oct 3 2007
Yangon, Myanmar -- IBRAHIM GAMBARI, the United Nations' special envoy to Myanmar, kept everyone guessing after his four-day visit to seek an end to its military regime's harsh crackdown on protesters.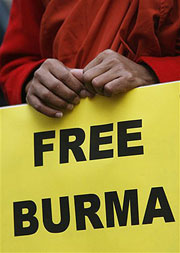 On Tuesday October 2nd, he flew out, having apparently met General Than Shwe and other regime leaders in their remote new capital, Naypyidaw, and having also met Aung San Suu Kyi, the pro-democracy leader. The next day, on his way back to UN headquarters in New York, he met Lee Hsien Loong, Singapore's prime minister, who currently chairs the Association of South-East Asian Nations (ASEAN).
There was talk at the UN that Mr Gambari might return to Myanmar in November. Perhaps international pressure could make the regime open dialogue with the pro-democracy movement, leading ultimately to a peaceful settlement. But this looks less and less likely. The regime continued making large-scale arrests of suspected pro-democracy campaigners during and after Mr Gambari's visit, while blaming foreigners for instigating protests.
As tens of thousands of Buddhist monks took to the streets late last month, it was hoped that the government would hesitate to crack down too hard on them. But troops and riot police sent onto the streets quickly demonstrated their ruthlessness.
Monks were beaten, arrested and in some cases shot or bludgeoned to death. By the weekend the last signs of resistance were quashed and the country's internet connections cut off, stemming the flood of news and pictures coming out of the country.
Large numbers of monks have been detained in unknown places. State-controlled media have admitted to only ten deaths since the protests began, claiming that the protests were handled "with care, using the least possible force". Diplomats believe there may have been hundreds of deaths. But, as with the crackdown on student-led protests in 1988, the final toll may never be known.
By the middle of this week, Yangon's streets were quiet, suggesting that the regime was confident that it had beaten the life out of the protests, for now at least. Outside reaction has been muted. What would matter is if the UN Security Council passed a resolution, perhaps prodded by Mr Gambari who will give a briefing, probably on Friday. But China and Russia vetoed such a resolution in January and it remains to be seen if either country would shift position now.
As the drama fades, the mundane misery of life for ordinary people continues. The country manages to produce a rice surplus, but the regime's travel restrictions, its rampant corruption and the lack of decent roads mean that many still go hungry. The situation is worst in the peripheral regions where ethnic minorities live. Most rice merchants are run by military men with no interest in feeding minorities who might rise up against them. Local farmers trying to take produce to market are stopped at military checkpoints by bribe-hunting officers. The World Food Programme estimates that about a third of under-fives are "chronically malnourished", one of the world's highest rates.
The regime is reckoned to spend less than 2% of its budget on health care, but over 40% on the armed forces. Infectious diseases are as widespread as in poor African countries. Myanmar has one of the world's highest rates of tuberculosis and drug-resistant forms of both tuberculosis and malaria are spreading. HIV infection is also growing in the general population. But government restrictions on aid workers' movements forced the Global Fund to Fight AIDS, Tuberculosis and Malaria to pull out in 2005. Aid groups have also been forced to restrict their operations.
As if starvation and sickness were not enough, over the years there have been reports of people being pressed into forced labour and of the army recruiting child soldiers. The economy is growing at perhaps 3-4% but much of the growth comes from the exploitation of natural resources—from gas to gemstones—whose proceeds mainly benefit the regime's pampered families.