An enlightened politics
by Madeleine Bunting, International Movement For A Just World (JUST), Oct 11, 2007
Kuala Lumpur, Malaysia -- They are extraordinary images: thousands of monks and nuns marching for democracy on the streets of Burma's cities. The shaved heads, the naked shoulders, the richly coloured cotton robes: all symbols of one of the most ascetic and enduring of monastic traditions in the world.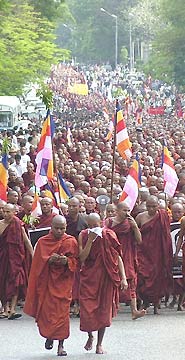 The Buddhist sangha - the collective term for these monks - is the only institutional structure outside government control which has managed to survive four decades of military dictatorship. It has survived because of the enormous respect it wields in devoutly Buddhist Burma. The government has known that it challenges the sangha's huge moral authority at its peril.
Now, an extraordinary alliance between some of the most senior monastic leaders and a younger generation of militant monks is presenting the dictatorship with its biggest challenge in nearly two decades. The monks are leading this protest movement; some reports have even suggested that the monks have urged the laity to stand back and let the monks themselves take the risk of confronting the regime, knowing that their status gives them some small degree of protection.
The monks are calculating that any mistreatment they receive will only increase their public support; they are using their status as a means to mobilise people against the regime. And all the time the monks have insisted on the unconditional Buddhist principle of non-violence and urged their lay colleagues to do the same. We are witnessing one of the most extraordinary demonstrations of religiously inspired courage and political engagement for the benefit of others.
It's a welcome and inspiring contrast to the last few years of religiously inspired violence. After several years in which we have seen faith used to justify and legitimise violence across the globe, this offers the other side of the story - how faith can be a powerfully positive force in political life. Aung San Suu Kyi has always made it clear how her politics is rooted in her Buddhist beliefs, and now the monks are showing a similar faith-inspired courage and steadfastness. As Suu Kyi once wrote, courage is a condition of the mind defined by strength of belief and will; during the long years of house arrest and isolation, she has followed a strict routine of spiritual practices such as memorising Buddhist sutras (verses of holy text).
Burmese Buddhism is not just the exception which proves the rule. Buddhist monks played an important role in Vietnam in the anti-war movement; there were several cases of suicide by self-immolation. A terrrible, dramatic way to highlight the plight of their country which shocked the world. Buddhism, contrary to some lazy western assumptions, is not just about meditation, feeling calm and achieving personal enlightenment; what sometimes has been missed from western accounts of this faith tradition is its radicalism and that the Buddha was a social reformer who spoke out against the injustices of his time such as the caste system. Through Buddhist scripture there is a clear understanding of good governance.
So one cannot help but wonder quite how the batch of critics of religion will interpret the role of the Buddhist monks. Christopher Hitchens has recently argued that religion poisons everything and goes on to insist that no progressive political movement has had any religious influence. He insists that a figure like Martin Luther King Jr was in no real sense a Christian. How will he explain the Burmese monks? Will Richard Dawkins accuse these monks of child abuse for encouraging young boys to join their monasteries? It would be sophistry to argue that Buddhism does not talk of a God and that it is not a "real" religion (an old and tired debate).
It's not that we should regard Buddhism as having a uniquely positive contribution to make to politics. Things aren't so clear cut - it plays a positive role in some places, and not others. Burma's Buddhist traditions are closely linked to those of Sri Lanka. Both are Theravada, but in Sri Lanka, the sangha have played a reprehensible role in Sinhalese nationalism.
The point is that you cannot generalise about the role of religion in politics. At some points in human history it has been a malign and terrible influence, at others, it has been critical to the development of progress and challenging injustice, as Tristram Hunt wrote on this site recently. In recent years, we have seen a lot of the former which is what makes these images of monks and nuns so powerful. They are reminding us all that faith can inspire great courage, dignity and compassion.