Vatican sends condolences on death of senior Buddhist abbot
CNA Daily News, August 19, 2013
Bangkok, Thailand -- The Vatican's Pontifical Council for Inter-Religious Dialogue sent a message of condolence to Thailand on the passing of senior Buddhist abbot Somdej Phra Buddhacharn.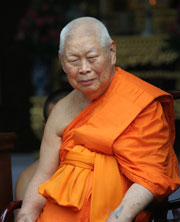 << Somdej Phra Buddhacharn, a member of Thailand's Supreme Sangha Council and the abbot of Wat Saket Temple, passed away on Aug 10.
The 85-year-old abbot died of a blood infection at Samitivej hospital on Aug. 10.
Highly revered as the most senior monk and chairman of the monastic panel acting on behalf of the Supreme Buddhist Patriarch of Thailand, Somdej Phra Buddhacharn was the chief of the Eastern Region of Thailand, a member of the Supreme Sangha Council and the abbot of Wat Saket Temple, which is known as the Temple of the Golden Mount.
In a message sent through the Apostolic Nunciature in Bangkok, Cardinal Jean Louis Tauran, president of the pontifical council, expressed sincere condolences for the loss of the prominent religious leader, as well as hope for continuing dialogue and friendship.
Monsignor Andrew Vissanu Thanya Anan, deputy secretary general for the Thai bishops' conference and former Vatican undersecretary for the Pontifical Council for Inter-Religious Dialogue, will be representing the Thai Catholic bishop's delegation at the funeral ceremonies.
Msgr. Vissanu told CNA that the former Apostolic Nuncio to Thailand, Mons. Giovanni Daniello, had paid an official visit to Somdej Phra Buddhacharn a few years ago, joined by Bishop Jospeh Chusak Sirisut, president for Thailand's commission for inter-religious dialogue.
"He was a sensitively understanding person who had a truly good will and heart," Msgr. Vissanu explained, describing the abbot as someone who made real efforts "to support the good relationship between Buddhists and Catholics for living harmoniously and working together peacefully in the society."
"I am very positive and hopeful in future dialogue to reaffirm our identity and maintain our friendship and respect with other beliefs," he said.
Msgr. Vissanau explained that the Buddhist funeral ceremony lasts for many days, beginning with the bathing ceremony of the body.
At this ceremony, close relatives and friends pour water on the exposed hand of the deceased and later transfer the body in the coffin. The chanting of Buddhist hymns and prayers also takes place.
Food is served in the name of the dead, and the body is later cremated after a week or even several months.
The abbot's body will be kept for the Abhaidhamma ritual – the chanting of prayers over the deceased – and for 100 days so that friends and followers can pay their respect.