Thailand: Dharma Army first to arrive at rally
By ThaiDay, February 26, 2006
Bangkok, Thailand -- The "Dharma Army" of the Santi Asoke sect were gearing up this morning for a possible marathon protest at Bangkok's Sanam Luang, with thousands of its members ready to demand the resignation of Caretaker Prime Minister Thaksin Shinawatra.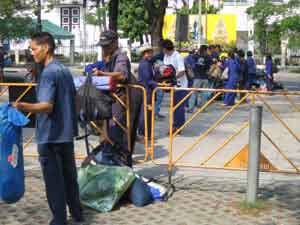 << The Santi Asoke sect were the first to arrive at Sanam Luang, preparing for a possible marathon protest.
Wearing straw hats and dark blue outfits, the first few hundred members of the Buddhist sect arrived around 10am in a convoy of trucks and buses, where they began unloading piles of luggage, from blankets and mats to cooking-gas tanks and sleeping bags.
They said they were here for the duration and vowed to stay for "as long as it takes" to oust the embattled premier.
"We want Thaksin out because everything he has done shows he does not respect the people and it's time for him to go," said Somsak, a man in his 40s from Ubon Ratchanthani, a province in the country's impoverished Northeast.
"[Thaksin] says since he took power we aren't poor. He should just open his eyes and look around. He claims to serve the poor but they're the ones he is hurting."
Santi Asoke has chastised Thaksin for what it says has been immoral behavior throughout his five years in power. The Dharma Army has been bolstered by last week's decision by Thaksin's mentor Maj-Gen Chamlong Srimuang to join the protest, which he says could attract more than 100,000.
His followers think the number may even be greater.
"There could be 200,000, even more than that," said another Santi Asoke member. "And there are millions more at home who want Thaksin to go."
About 400 police had were already in place to oversee the arrival of the protestors. The mood was relaxed yesterday morning.
Like at recent anti-Thaksin protests, the police were unarmed, and more were due to arrive later. "There should be at least 4,000 policemen," said one officer, "but we don't expect any trouble."
TOP