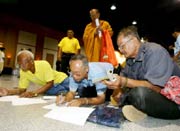 Eighty per cent of crematoria at Buddhist temples nationwide are substandard and emit excessive levels of highly toxic pollutants, including cancer-causing dioxins and furans, according to the Natural Resources and Environment Ministry.
According to a recent survey, 312,000 corpses are cremated each year, while more than 21,000 of the 27,000 temples housing a crematorium use incinerators that cannot generate enough heat. The incomplete combustion creates dioxins and furans.
"Undertakers are directly affected by the toxic gases. However, they can play an important role in helping to relieve the problem," caretaker Natural Resources and Environment Minister Yongyuth Tiyapairat told a seminar held by the Pollution Control Department on Friday.
About 1,000 people in the cremation business such as undertakers, monks and coffin sellers, as well as environmental experts, participated in the seminar.
"Undertakers need to be informed about safe and standard cremations that preserve the environment and how to protect their own health from toxic pollution," Yongyuth said.
Incinerators need to have an afterburner, which can reach over 800 degrees Celsius and limit the pollutants in the flue gas, but most temples can't afford environmentally-friendly furnaces that costs millions of baht each, compared to a toxin-spewing model that works out at about Bt600,000.
"We're conducting a nationwide survey of temple crematoria and will upgrade the equipment to be pollution-free. We'll start with temples in dense communities with a high death tolls per year," Yongyuth said.
The ministry will also provide annual medical check-ups for undertakers.
The coffins and the possessions of the deceased that are burned with them also contribute to the pollution problem.
The popular Thai-style coffin is decorated on the outside with deva figures, which are usually made of plastic and covered in lead-based gold paint. The interior is generally padded with synthetic fabrics.
"Relatives of the dead always want us to put a suitcase of clothes, packs of silver and gold paper and plastic shoes inside the furnace together with the body. These things are hard to burn and produce smoke and a stench," said Orachorn Mungruean, an undertaker working for the South Bang Preak and Bang Kwang temples in Bangkok.
"Sometimes I ask them not to put the suitcase of clothing in. But they insist in putting in the silver and gold papers that are adulterated with lead," said another undertaker from the South.
Ampapan Suriyasenee, a coffin merchant, said it was hard to persuade customers to buy coffins without plastic deva figures and synthetic padding.
"It's their belief. It's hard to change," she said.
"But if monks and undertakers suggest to them how to cremate the bodies of their loved ones without harming the environment, they might understand."