Poignant ceremony in Pattaya offers support to monks in restive South Thailand
Pattaya Daily News, June 30, 2009
Pattaya, Thailand -- Sattahip Buddhists joined in a special ceremony on 27th June 2009 to donate offerings to 1500 Buddhist monks of the 226 temples in the Southern part of Thailand. The ceremony was a gesture of support to the region which has suffered from 4 years of violence.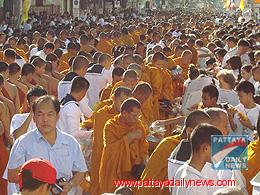 The ceremony was supported by various local organizations, including the navy base, Sattahip municipality, the Sattahip Buddhist association, The Gulayamitr association and the Chonburi Culture and Environment association. The offerings included dry food, rice, personal items and cash.
Vice Admiral Sriwisut Ratharoon, Commander in chief of the navy, Sattahip, revealed the purpose of the ceremony was to offer support to the 266 temples in the 4 southernmost provinces of southern Thailand. Since the year 2004 the level of violence in the area has been increasing, and there seems to be no solution in sight. He said the Sattahip associations would do the best they can to help those who are suffering from the effects of the conflict.
On 13th June 2009, a Buddhist monk was shot dead and another injured in a gun attack in Yala's Muang district. Two men on a motorbike fired AK47s at the two monks while they were collecting their morning alms. The attack, which killed Phra Sombat Srisuwanwichian, 60, and injured Phra Thawatchai Chaiyamarn, 24, came only three and a half days after a massacre at a mosque in Narathiwat that saw 11 Muslim worshippers killed and a dozen injured.
Colonel Phumphet Pipatpetphum, deputy commander of the Yala Provincial Police, said the assailants wanted to provoke anger among Buddhists in the predominantly Muslim region. "They want Buddhists to stay afraid and distrust their Muslim neighbours, in order to deepen divisions within society," he said.
The attack was not the first aimed at monks. Many Buddhist monks and temples have been victims of the violence that began on January 4, 2004. At least five monks have been killed to date
Deputy Prime Minister Suthep Thaugsuban, who flew to the deep south to inspect ground operations and ensure better security for monks, said the attack was not a case of Muslim revenge on Buddhists but rather militants bent on fostering religious strife.
The Thai government, for its part, is pouring money into the restive region, hoping to win local hearts and minds, leaving the rest of the country, and the likes of us in Pattaya and Sattahip, to give the support we can.