Late Rev Dhammananda served all mankind, says Malaysian Chinese leader in eulogy
The Star, September 4, 2006
KUALA LUMPUR, Malaysia -- The late Venerable Dr Rev K. Sri Dhammananda - Chief High Priest of Malaysia and Singapore - was a man who dedicated his life to promoting peace, understanding and harmony.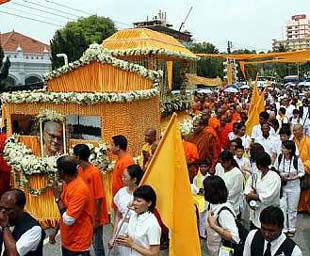 << DEVOTEES' SENDOFF: Thousands converged at the Buddhist Maha Vihara in Kuala Lumpur to bid farewell to Rev Dhammananda
"Rev Dhammananda served not only the Buddhist community but also all mankind. It is for this reason that he won the respect of people of all races and religions," said Housing and Local Government Minister Datuk Seri Ong Ka Ting, who represented the Government at a eulogy ceremony at the Buddhist Maha Vihara here yesterday.
Ong said Rev Dhammananda, who founded the Buddhist Missionary Society Malaysia (BMSM) in 1962, had conveyed Buddha's message on peace to every corner of Malaysia as well as throughout the world.
Rev Dhammananda, he added, would always be remembered for his strong role in promoting inter-religious harmony in the country.
"He was a firm believer that all religions have an important role to play in making human beings behave in a noble manner," he said.
Through the BMSM, Rev Dhammananda published 70 books which were translated into more than 16 languages. Ong added that Rev Dhammananda never wanted any fame or glory and had lived the life of a simple monk.
Others who delivered eulogies included Sri Lankan Prime Minister Ratnasiri Wickremanayake, Malaysian Consultative Council for Buddhism, Christianity, Hinduism, Sikhism deputy president Pradip Kumar, BMSM president Ang Choo Hong and Malaysian Buddhist Association president Venerable Sik Jit Heng.
The eulogy by Buddhist Summit president Most Venerable Dr Kyuse Enshinjoh, was read by Buddhist Summit of Japan secretary-general Venerable Fujikura.