Foundation gives $5 million to endow Stanford Center for Buddhist Studies
Stanford University, June 24, 2008
The Stanford Center for Buddhist Studies has received a $5 million gift from the Robert H. N. Ho Family Foundation
Palo Alto, CA (USA) -- The gift will fund graduate fellowships in Buddhist studies and endow the newly named Robert H. N. Ho Family Foundation Center for Buddhist Studies at Stanford University.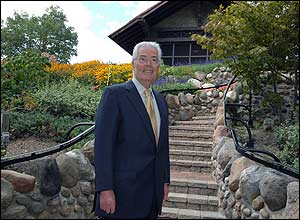 << Retired billionaire businessman Robert Hung-Ngai Ho, who now makes his home in Vancouver, has gifted $5 million for Buddhist studies to Stanford University
With matching funds from the William and Flora Hewlett Foundation, the center will use the gift to expand and strengthen Stanford's internationally recognized Buddhist studies program through enhanced support for faculty and student research, visiting fellows, curriculum development and academic and public events.
"This is one of those steeples of excellence that we are proud to support and to have at Stanford," said Richard Saller, the Vernon R. and Lysbeth Warren Anderson Dean of the School of Humanities and Sciences.
The Robert H. N. Ho Family Foundation is a Hong Kong-based philanthropic organization that supports and develops programs related to both Buddhism and Chinese culture. The foundation's founder and chairman is the Hong Kong-born Robert Hung-Ngai Ho, the grandson of Sir Robert Ho Tung and Lady Clara Ho Tung, and the son of General Ho Shai Lai and Hesta Ho Hung Ki Fun.
Robert Ho's career was devoted to journalism and to the management of the family's business interests. Since retiring, he has focused his attention on philanthropy through the foundations he set up (the Ho Family Foundation and the Tung Lin Kok Yuen Canada Foundation) and through personal gifts.
Ho follows in the footsteps of his grandmother, Lady Clara Ho Tung, who was a devout Buddhist dedicated to an array of both religious and charitable activities. In 1935, she established the Tung Lin Kok Yuen, which served as both a Buddhist school and a venue for Buddhist practice and which was the first Buddhist school for girls constructed in Hong Kong.
In 1994, Ho perpetuated his grandparents' legacy, in particular his grandmother's, by establishing the Tung Lin Kok Yuen Canada Society, and, in 2005, he founded the Tung Lin Kok Yuen Canada Foundation to endow chairs and research programs in Buddhist studies. Ho is realizing his grandmother's aspiration to promote Buddhist education internationally.
Stanford's graduate program in Buddhist studies is one of the largest in the country, with 12 doctoral students currently enrolled. Since 1994, it has produced 22 graduates, now teaching at universities in the United States, Europe and Asia.
The Stanford Center for Buddhist Studies was founded in 1997 through a gift to the university. It is currently administered by the Division of International, Comparative and Area Studies, and maintains offices, library and seminar rooms in Building 70 on the Main Quadrangle.
"The Ho Foundation gift represents a major step forward both for our center and for the field of Buddhist studies," said Carl Bielefeldt, professor of religious studies and director of the Ho Center for Buddhist Studies at Stanford. "The School of Humanities and Sciences has always been very supportive of our center's programs, but the new endowment will make possible a significant expansion of our activities both on campus and in the broader field. It will enable us to host scholars from around the world for research and teaching, and to mount major academic conferences, workshops and symposia. We have already begun planning for our first such major event: an international conference on the current state of research on early Buddhist Sanskrit manuscripts, organized by our own resident expert in this work, Professor Paul Harrison of Religious Studies."
IIn addition," Bielefeldt said, "the Ho Foundation gift will greatly enhance our center's ongoing public event programs, our library development and our funding for research, curriculum development and student support. We are particularly pleased that the gift includes an endowment for at least two graduate fellowships in Buddhist studies, an important first step in our initiative to increase the number of fellowships available to students in this field."
According to plans being developed by the Ho Family Foundation, the Ho Center for Buddhist Studies at Stanford will be one of a network of such centers for Buddhist studies supported by the foundation.
"We are especially honored that the Robert H. N. Ho Family Foundation chose to set up the first Ho Center for Buddhist Studies at Stanford University," said Irene Lin, the center's associate director and a graduate of the master's and doctoral degree programs in Buddhist studies at Stanford.
"We look forward to working with a worldwide network of Ho Centers for Buddhist Studies as they are established in the near future. Such a network will do much to promote collaboration and communication in the field of Buddhist studies, making the discipline truly international and seamless.
Stanford, located as it is on the Pacific Rim and in an area where Buddhism is particularly well represented, is ideally situated to serve as an international hub for Buddhist studies."
TOP