American Monk Named First US Representative to the World Buddhist Supreme Conference
The Buddhist Channel, Dec 25, 2006
Seattle, WA (USA) -- Sayadaw Gyi U Vimalaramsi Maha Thera, American Buddhist Monk, preferring to be known today as Venerable Bhante Vimalaramsi, received word Friday, December 15th that he was officially confirmed as the first Representative from the United States of America to the Buddhist Summit, World Buddhist Supreme Conference.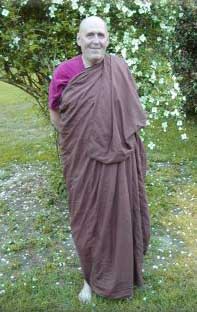 << Venerable Bhante Vimalaramsi is the first American born monk who has been named as the first US Representative to the World Buddhist Supreme Conference
As part of his new position he will coordinate U.S. representation at the Summit Conference to be held in Kobe, Japan in the Spring of 2007. The goal of the summit conferences is to bring together the many traditions of Buddhism in the world, and unify them to produce a united position dedicated to working towards balance, harmony, and world peace for mankind. The Conferences meet every two years.
Venerable Bhante Vimalaramsi is beginning the process of unification during his U.S. tour which includes a three-week stop in Seattle in January of 2007. Venerable Bhante Vimalaramsi will be residing at the Atammayatarama Buddhist Monastery in Woodinville, WA during his visit.
He will be giving dhamma talks on Loving Kindness-Vipassana or Tranquil Wisdom meditation at Nalanda West and various venues throughout the Puget Sound area. For detailed information on the schedule, please go to www.dhammasukha.org/Seattle .
Venerable Bhante Vimalaramsi's position as a Representative for the World Buddhist Supreme Conference representing the United States of America is a hallmark for Buddhism in this country. Until now there has been no American monk sitting at such a conference to represent U.S.
Buddhist interests and discuss a common point future for various Buddhist traditions. There are representatives from over 50 different countries who attend the World Buddhist Supreme Conference. To be confirmed as a member, a monk representing their country has to be nominated by other members. For this country to be presented on the council, an American born monk with a sufficient sphere of influence was needed. Venerable Bhante Vimalaramsi is the first American born monk who gained the attention of world Buddhist leaders.
On November 7- 14 Venerable Bhante Vimalaramsi flew to Kobe, Japan to complete a nomination process for his seat as the first U.S. representative for Buddhism to the World Buddhist Supreme Conference.
He toured a large portion of Southern Japan and discussed the state of Buddhism in the World with other leaders. This nomination was offered by the Venerable Nandisena, the Representative from Mexico. There were several other members of the Council who were supportive of this nomination including his late teacher Sayadaw U Silinanda who
encouraged him over the years, the late Ven. K Sri Dhammananda who was a close friend and supporter, and his friend and fellow monk the Ven. Buddharakkhita the Representative for Uganda. As the US representative, Venerable U Vimalaramsi now joins other Nations in the task of re-examining the earliest Buddhist texts and practices, and clearly identifying how they are still relevant today.
This is an unprecedented honor for this Venerable forest monk who lives in the Ozark mountains of Missouri and has dedicated his life to practicing meditation, researching, studying, teaching, and writing about Buddhist Meditation for over 30 years. Venerable Bhante Vimalaramsi became a Buddhist monk in 1986 because of his keen interest in meditation. He went to Burma in 1988 to practice intensive meditation at the famous meditation center, Mahasi Yeiktha in Rangoon.
There he practiced meditation for 20 to 22 hours a day for 8 months. In 1990 he went back to Burma and did an intensive 2 year retreat at The Chanmyay Yeiktha Meditation Center. In 1995, he was invited to live and teach at the largest Theravada monastery in Malaysia, giving talks every other week to up to 500 people at a time.
While in Malaysia, he wrote a book on the mindfulness of breathing called "The Anapanasati Sutta-A Practical Guide to Mindfulness of Breathing and Tranquil Wisdom Meditation". There are now nearly 1,000,000 copies distributed worldwide in five different languages. Venerable Bhante Vimalaramsi is the Abbott of the Dhamma Sukha Meditation Center in Annapolis, MO which is coordinated by the United International Buddha Dhamma Society, Inc.
He is also building a Forest Retreat Center which will become the first American Buddhist Forest Tradition study center on American Soil.
Further information on Venerable Vimalaramsi's background and a story of his spiritual journey can be found at the website www.dhammasukha.org.