Buddhist Monks Erase the Sands of Dalai Lama's Time
By Sonia Fernandez, Noozhawk, April 27, 2009
Mandala dissolution ceremony is a careful deconstruction of the painstaking art honoring his UCSB visit
Santa Barbara, CA (USA) -- The day after the Dalai Lama's visit to Santa Barbara on Friday, Tibetan Buddhist monks from the Drepung Loseling Monastery brought to an end the sand mandala they created in honor of their spiritual leader.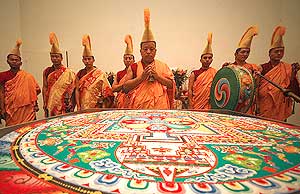 << Buddhist monks carry out their ritual dissolution of the Mandala of Compassion, an exacting work of sand art prepared for the Dalai Lama's visit to UCSB. (Michelle J. Wong / Noozhawk photo)
Called the Mandala of Compassion, the work of art, at UCSB's University Art Museum, was a tribute to the monks' patron saint, Avalokiteshvara, the Bodhisattva of Compassion. All the Dalai Lamas are seen as manifestations of this patron saint.
The dissolution of the sand mandala, created after five days of painstaking and exacting work by the monks, was meant to symbolize the Buddhist concept of nonattachment, as the monks ritually destroyed their work, mixing and mingling the colored sand they carefully distributed on their work space. After blessing the grains and anointing themselves with the sand, they offered samples to the crowd that had assembled to watch the dissolution ceremony.
A procession led by the monks followed the ceremony at the museum, with the throng following close behind.
The monks took a small urn filled with the sand to the ocean, continuing their prayers and chants. In the seaside ritual they poured the grains into the ocean to fully dissolve the work they had done, leaving no trace of it behind. In pouring the sand into the ocean, they said, they hoped that the water would take the sacred grains to touch shores all over the world.