Home Issues


How Buddhism Became Force for Political Activism
By ANDREW HIGGINS, WSJ, November 7, 2007
From China to Myanmar, a once-quiescent creed spurs new campaigns
New York, USA -- After evening prayers on Sept. 18, the abbot of a small monastery in Myanmar's largest city convened the roughly 30 Buddhist monks in his charge. The bonds between secular and religious authority had broken, the abbot said. Then he gave the monks his blessing to take to the streets in protest.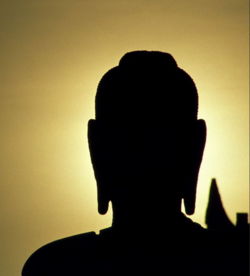 That meeting, one of many held in monasteries across Myanmar in mid-September, helped turn a sputtering campaign of dissent led by secular democracy activists into a mass movement led by Buddhist clergy. The country formerly known as Burma erupted in the biggest wave of antigovernment demonstrations in nearly 20 years.

"We wanted to stay out of politics," says U Zawtiga, a monk at the monastery in Yangon, formerly Rangoon. But "how can religion thrive when the country is so desperate?" Mr. Zawtiga, active in the protests, fled Yangon after the military started shooting protesters on Sept. 27. He is now in hiding along Myanmar's border with Thailand. His abbot, he says, has been arrested.

The vanguard role of monks in the Burmese protests underscores a curious turn for a creed often associated with quiet contemplation. Unlike Islam and Christianity, Buddhism offers no clear scriptural mandate for revolt against unjust rulers. Rooted in nonviolence, a belief in rebirth and a conviction that salvation lies in the conquest of worldly desires, it has no tradition of crusades or jihad in service of an almighty God.

Across wide swathes of Asia, however, Buddhism has emerged as a powerful spur to political activism. Motives differ from place to place. So, too, do the strands of Buddhism involved. But in each case, the faith has taken the lead in often noisy campaigns for change.

The phenomenon extends from Tibet, where Buddhist monks have doggedly resisted Chinese rule, to Myanmar and several other countries of Southeast Asia, where monks have become a significant political force. Monastic activism has taken on a sinister tone in some places, particularly in Sri Lanka, where hard-line nationalist monks have formed a political party that wants all-out war against rebels of the mostly-Hindu Tamil minority.

In China, meanwhile, a Buddhism-tinged group called Falun Gong has eclipsed a moribund pro-democracy movement as the Communist Party's most determined foe.

Buddhism should "not run away from society but reform society," says Sulak Sivaraksa, a prominent Thai champion of Buddhist activism against poverty and injustice. Focusing on just meditation and the next life, he says, is "not Buddhism but escapism." In 1989, Mr. Sivaraksa helped found the International Network of Engaged Buddhists, a group of Buddhist activists that includes some from Myanmar and also Tibet.

Shocks of Modernization

Christopher Queen, a Harvard University religion lecturer, says the trend began in the latter half of the last century, a time when the shocks of modernization and war prodded many faiths to become increasingly political. Some Roman Catholics embraced "liberation theology" and Muslims increasingly turned to political Islam. For Buddhists, though, activism has involved a fundamental re-reading of their generally quiescent creed.

Buddhism holds that an individual's lot in life is determined by actions -- or karma -- in previous lives. This offers hope that evil leaders will pay a price for their misdeeds in a future life but provides little impetus for immediate action. As a result, for much of its history Buddhism has tended to shore up the status quo.

But Myanmar's current plight demands action in the here and now, says Bo Hla Tint, a Buddhist and member of Myanmar's government-in-exile. "We can't wait," he says. He adds that military strongman Gen. Than Shwe will face further punishment later -- with rebirth as a stray dog or an animal raised for slaughter. Rebirth as a household pet, says Mr. Hla Tint, "is too good for him."

A big factor pushing Myanmar's monks onto the streets is their own economic pain. Dependent on donations of food from an increasingly impoverished populace, monks are going hungry as public almsgiving declines. "If people are starving, how can they give to us? If they suffer, we suffer," says U Kaw Thala, 48 years old, another Yangon monk now moving between safe houses in the Thai-Myanmar border zone.

In contrast to secular activists, who are often easily silenced by arrests and intimidation, these faith-fired Buddhist campaigners have demonstrated tremendous stamina. Such perseverance is often helped by the fact that monks and nuns usually have no spouses or children to worry about. Activists also benefit from a loose but durable support network provided by their faith.

Mr. Zawtiga, the Yangon monk, entered the monkhood at the age of 7. Now 39, he has lived in five different monasteries and has a network of contacts across the country. During the September protests, he traded information with old monastic friends and helped coordinate street protests. His parents are both dead. Two of his brothers are abbots.

When the military started raiding monasteries the night of Sept. 26, Mr. Zawtiga took refuge at the home of a devout Buddhist. The next day, accompanied by two other monks, he traveled by bus to the border with Thailand. Local Buddhists gave him shelter and a set of orange-colored robes to help him pass himself off as a Thai monk. Burmese monks wear burgundy. Mr. Zawtiga stays in touch with monks in Yangon and elsewhere by cellphone.

"Everybody knew the military would use violence," he says. "This was not unexpected. We are not afraid." Students and other pro-democracy forces, he says, have been severely weakened by years of repression but "the Sangha [Sanskrit for Buddhist clergy] is getting stronger and more organized." Last week, more than 100 monks took to the streets again in Pakokku, a town in the center of the country. They chanted a Buddhist prayer associated with the democracy cause.

One of the better-known demonstrations of stalwart Buddhist resistance is in Tibet, a Buddhist theocracy until China invaded in 1950. Its monks again defied Beijing last month by celebrating the U.S. Congress's decision to award its highest civilian honor to the exiled Dalai Lama. Clashes were reported in several towns between Chinese security forces and monks.

Persistence and organization are also hallmarks of China's banned Falun Gong movement, a blend of Buddhism, Chinese folk religions and pseudoscience founded in 1992. After initially tolerating the group, authorities cracked down hard in 1999, branding Falun Gong an "evil cult" and arresting thousands.

Since then, the movement has taken up politics with gusto, promoting a political tract called "The Nine Commentaries," a denunciation of communism written in 2004. Falun Gong has no monks or clergy but, through a web of motivated and well-organized lay followers in Hong Kong and elsewhere, it continues to needle Beijing. A TV station and radio network run out of the U.S. beam anticommunist messages into China.

Toughened Resolve

The head of China's state-controlled Buddhist Association denounced Falun Gong, but a few activist Buddhists rallied to defend the group. Among them was Xu Zhiqiang, a protest leader during China's 1989 democracy movement who, after being released from jail, joined a Buddhist monastery. Buddhism, he says, offered him a sanctuary and also toughened his resolve.

In 2004, Mr. Xu helped in a civil suit filed on behalf of an imprisoned Falun Gong follower. He says he doesn't support Falun Gong's reading of Buddhism but does support religious and political liberty. Last year, authorities booted Mr. Xu out of his monastery, accusing him of corruption and "improper relations" with three female Buddhists. He denies the allegations.

Though often wary of Falun Gong's sometimes cultlike behavior, secular Chinese dissidents voice admiration for its staying power. Democracy campaigner Wei Jingsheng, who spent 19 years in Chinese prisons and now lives in exile in the U.S., isn't a believer but sometimes attends Falun Gong events outside China to show solidarity. At a big July rally in Washington, he looked out on a sea of anti-communist banners and said his own dwindling band of secular democrats "could never get a crowd like this."

Buddhists have moved beyond cloistered contemplation before. In medieval Japan, a time of political turmoil, monasteries ran their own armies. China, too, had warrior monks. Starting in the 13th century, China saw periodic rebellions stirred up by the White Lotus, a Buddhist sect greatly feared by rulers as a symptom of dynastic decline.

Generally, though, Buddhism has tended to support established power. This pattern dates back more than 2,500 years to the religion's founder, Siddhartha Gautama, better known as Buddha or the "enlightened one." A north India aristocrat, he found spiritual liberation -- Nirvana -- through meditation under a tree. Unlike Jesus and Muhammad, he didn't challenge ruling elites.

Roughly two centuries after Siddhartha Gautama's death, King Asoka of India declared Buddhism a state religion. Since then, Asian rulers through the centuries have sought to emulate his example, supporting monasteries in return for the clergy's blessing of their rule.

Washington, struggling to beat back communism in Asia, also saw Buddhism as a potential force for stability. But in 1963, a Vietnamese monk set himself on fire to protest the anti-Buddhist bias of South Vietnam's U.S.-backed Roman Catholic president, Ngo Dinh Diem. Eager to calm Buddhist anger, the U.S. helped topple President Diem.

Even fanatical atheists have cloaked their rule in symbolism borrowed from Buddhism. In May 1975, shortly after their conquest of Cambodia, Khmer Rouge leader Pol Pot and his lieutenants retired to a Buddhist sanctuary, the Silver Pagoda, to plot a murderous program that would result in an estimated 1.6 million deaths and include the slaughter of many monks. Pol Pot slept on a raised dais previously used to display a statue of Buddha.

Burma, as Myanmar was known until 1989, has a particularly deep Buddhist heritage. According to Burmese tradition, the faith was first brought to the country by a mission sent by King Asoka in the third century B.C. When Britain seized Burma in the 19th century, loyalty to Buddhism helped rally resistance.

Since independence in 1948, Burmese leaders have all sought to revive the ancient model of close bonds between monastic and state power. More than 80% of the population is Buddhist. U Nu, the country's first prime minister, rebuilt temples and monasteries and, in imitation of King Asoka, held a Buddhist Council that brought together faithful from across Asia. After a 1962 coup brought the military to power, dictator Ne Win, a Buddhist inspired by Marx and Stalin, built two huge new pagodas -- but also purged the clergy of monks suspected of disloyalty.

Democrats tapped Buddhism, too. When students took to the streets in 1988, Aung San Suu Kyi, leader of the democracy cause, visited Yangon's Shwedagon Pagoda to call for an end to military rule. Monks joined the movement, which mushroomed into a peaceful mass uprising. In September 1988, the military crushed the protests. As many as 3,000 people died. Nine months later, on June 4, 1989, similar scenes played out in China, Burma's closest ally. Hundreds and possibly many more died when the army launched an assault on Tiananmen Square to end student-led protests.

In both China and Myanmar, democracy activists went into hiding, fled abroad or were jailed. In both countries, various strains of Buddhism helped fill the void as a vehicle for dissent.

China worked hard to shore up the Buddhist bona fides of its increasingly beleaguered allies in Myanmar. Starting in the mid-1990s, it arranged several times to have Buddha's tooth -- a relic greatly revered by Buddhists -- sent from China to Myanmar for display. Myanmar's generals built a special sanctuary to house the tooth and invested in other Buddhism-related construction projects.

The lavish spending on temples won over some monks but in general, ties between the state and the clergy continued to fray. Dissident monks set up the All Burma Young Monks Union to organize resistance to the junta. Ms. Suu Kyi, the opposition leader, reached out to elderly abbots and, while in detention, calmed her nerves by reading a book on the "liberation teachings" of Buddha.

The deepening economic crisis of recent years hit monasteries hard, pushing even apolitical monks toward activism, says Mr. Kaw Thala, the Yangon monk now in hiding. He says he used to collect small donations of rice and other food from around 20 people each week. The number of almsgivers, he says, had dwindled to a handful by this summer.

Meanwhile, soaring unemployment drove many jobless men to seek shelter in monasteries. At a monastery in the hills above Myawaddy, a town on the border with Thailand, a 44-year-old former professional kick boxer explained that he grew too old to practice his martial skills and couldn't find another job. He decided six months ago to become a monk.

Recent Protests

Myanmar's recent protests were initially triggered by an abrupt hike in the price of fuel on Aug. 15. Veteran political activists, mostly former student leaders from 1988, organized a series of small marches and delivered fiery speeches. Most were promptly arrested. The protests died down.

In early September, security forces threw gasoline on the dying embers by manhandling a group of monks in Pakokku, the central Myanmar town where monks marched again last week. Rumors quickly spread of a bloodbath. Senior monks demanded an apology from the military. Officials ignored the plea.

When a mid-September deadline set by monks for an official apology for the Pakokku incident passed, monastic anger bubbled over. At meetings in monasteries across the country, monks denounced the military's failure to apologize and called for action.

Mr. Zawtiga, the monk from Yangon who is now on the run, says discussion of the Pakokku episode dominated the meeting held at his own monastery on Sept. 18. The military "insulted our religion," he says. "We can't tolerate that."