Home Issues


Dalai Lama: My Reincarnation Will Appear In Free Country
By P. Vijian, Bernama, July 20, 2010
DHARAMSALA, India -- Exiled Tibetan spiritual leader Dalai Lama believes his next reincarnation will be in a "free country", if the Tibetan crisis prolongs without a cordial solution.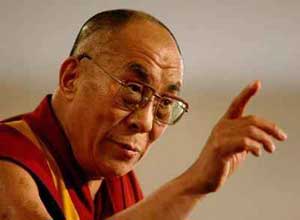 "If I die as a refugee and the Tibetan situation remains like this, then logically, my reincarnation will appear in a free country, because the very purpose of reincarnation is to carry on the work which began in my previous life.

"And, there is some contribution, some fulfillment in work started in the previous life. Then, that is truly reincarnation," he told Bernama in a recent interview at his exile-base in Dharamsala in northern India.

He said, if obstacles were created against carrying out the tasks of the Dalai Lama's previous life, than the "reality is not reincarnation."

The 75-year-old senior monk, named Tenzin Gyatso, now the 14th Dalai Lama, is recognised as the reincarnation of Tibet's 13th spiritual leader Thubten Gyatso.

The Nobel Peace laureate said, despite insurmountable odds, largely the political pressure from the Chinese Government for a free Tibet, he would continue his campaign for the thousands of Tibetan people displaced from their native land for almost five decades.

"My daily prayer is, so long as space remains and so long as the sufferings of sentient beings are there, I will remain in order to serve, that is my most effective inspiration," he said.

Asked whether a female could possibly head the male-dominated Tibetan Buddhist hierarchy in the future, he said women were always held in high esteem in Buddhism, without prejudice.

"Female Dalai Lama (is) possible because in Tibet tradition, among the high women, reincarnation is there, I think there is the 700-800-year-old Dorjee Phagmo institution which is for female reincarnation...so, there is no religious connotation that religious leader must be male.

"If circumstances are such that female reincarnation is more effective to people, then, logically it should be female," he said.

Queried if he would one day take the form of a woman reincarnation, he replied: "I personally don't know."

The Tibetan movement in exile is seeking genuine autonomy from Beijing, with the Dalai Lama pushing the "middle way approach" -- a moderate agenda for a peaceful co-existence with China -- so, ancient Tibetan language, culture and Buddhism remain in tact.