Taiwan monk offers hope to African orphans with Buddhist teachings
By Lee Hsin-Yin, CNA, Jan 21, 2012
Taipei, Taiwan -- Master Hui Li, chairman of the South Africa-based Amitofo Care Centre (ACC), decided to set up orphanages in Africa after an eye-opening visit to South Africa in 1992.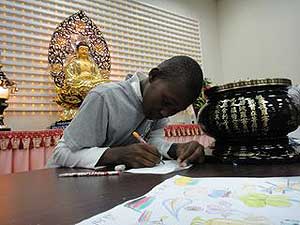 During that trip, Hui Li saw the devastating effect that HIV/AIDS was having on the children of the country and decided that Buddhist teaching were the solution to the misery he saw.
"The fundamental principle of Buddhism is that everyone is equal," the 56-year-old said in a recent interview with CNA. "Practicing Buddhism helps heal the kids and teaches them how to treat others with respect."
At present, he added, his non-profit organization has adopted more than 3,000 orphans across the continent in countries such as Malawi, Swaziland and Lesotho.
Children at the orphanages are placed in groups comprising of students of different ages, Hui Li explained. This allows the kids to experience a real social life, as they not only live and study hard together, but also, more importantly, take care of each other as well, he added.
As an incentive to work hard, the group that performs the best academically is allowed to go into town as a reward, Hui Li said, adding that the orphanages accept children up to the age of 18.
"What we are doing here is integrating Buddhist teachings with aspects of mundane daily life because Buddhists don't live in outer space," Hui Li said, touting his child care methodology as practical.
Every effort, he said, however, is based on local African culture. In that way, the children can grow up with a sense of morality and hopefully make a change to their surroundings as adults.
"No matter whether we provide a Buddhist or Chinese learning environment, it's ultimately the Africans themselves who should decide what they want from their lives," he said.
In that regard, Hui Li explained, the orphans are encouraged to express themselves through music and dance, as these are the most common ways Africans celebrate their culture.
"Look at the people here. Every one from the age of 3 up to the age of 90 loves dancing and singing," said Hui Li. "We don't want to sacrifice African traditions for modernization."