U.N. Celebrates Buddhist International Day of Vesak
By John Laing, edited by Jim Luce, Daily Kos, May 7, 2012
New York, USA -- Vesak - signifying "Buddha's Birth, Enlightenment and His Parinirvãna (passing away) - is the most sacred day in the Buddhist calendar. In an era where the world is darkened by multiple conflicts and natural and man-made calamities, the Buddha's message of non-violence, understanding, compassion and peace, is powerfully relevant.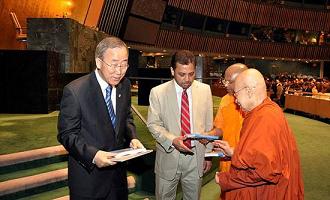 << Ban Ki Moon with the Sri Lankan Ambassador Dr. Palitha Kohona in the General Assembly.
Photo: Sri Lankan Mission to the U.N.
The United Nations celebrated the International Day of Vesak on May 7, 2012 at the U.N. General Assembly Hall.
Visakha in Pali means the sixth month and is known as Vaisakha in Sanskrit. People in Thailand call it Visakha. Visakha Puja means the chantings and offerings initiated in the sixth lunar month. However, as people in Sri Lanka have called this event Vesak, the United Nations too have adopted Vesak as the official term and have officially recognised it as one of its International Day, as stated in the U.N.'s GA Resolution 54/115 of 2000.
Since then, the International Day of Vesak has been commemorated annually at the United Nations Headquarters as well as its offices worldwide. The unique feature of the celebrations is that each year a different Permanent Mission to the United Nations hosts the event. The Vesak event this year included cultural activities, supported by a number of Buddhist and non-Buddhist countries.
This year's Vesak Day was also commemorated with a series of events organized by the Permanent Mission of Sri Lanka to the United Nations in New York with the generous assistance of other missions. The heads of the United Nations bodies along with other senior officials of the UN system attended the occasion.
Permanent Representatives of Member States also attended the event and a number of them addressed the gathering. A large number of Buddhist monks from around the world also participated, along with religious dignitaries from other major religions.
The holy day of Vesak is observed traditionally by Buddhists in Bangladesh, India, Nepal, Sri Lanka, and the South East Asian countries of Singapore, Vietnam, Thailand, Cambodia, Laos, Malaysia, Burma, and Indonesia. Interestingly, the decision to agree to celebrate the Vesakha as the Buddha's birthday was formalized at the first Conference of the World Fellowship of Buddhists held in Sri Lanka in 1950, although festivals at this time in the Buddhist world are a centuries-old tradition.
Following the special commemorative event in the General Assembly Hall, cultural performances was held at the Visitor's Lobby of the UN, depicting the rich Buddhist heritage of the organizing Member States. The day concluded with a food festival hosted by the organizing Member States, representing delicacies from over 19 nations.
TOP