Sex invariably spells trouble, says Dalai Lama
AFP, Nov 29, 2008
LAGOS, Nigeria -- The Dalai Lama, the exiled Tibetan spiritual and temporal leader, on Friday said sex spelt fleeting satisfaction and trouble later, while chastity offered a better life and "more freedom."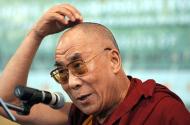 "Sexual pressure, sexual desire, actually I think is short period satisfaction and often, that leads to more complication," the Dalai Lama told reporters in a Lagos hotel, speaking in English without a translator.
He said conjugal life caused "too much ups and downs.
"Naturally as a human being ... some kind of desire for sex comes, but then you use human intelligence to make comprehension that those couples always full of trouble. And in some cases there is suicide, murder cases," the Dalai Lama said.
He said the "consolation" in celibacy is that although "we miss something, but at the same time, compare whole life, it's better, more independence, more freedom."
Considered a Buddhist Master exempt from the religion's wheel of death and reincarnation, the Dalai Lama waxed eloquent on the Buddhist credo of non-attachment.
"Too much attachment towards your children, towards your partner," was "one of the obstacle or hindrance of peace of mind," he said.
Revered by his followers as a god-king, the Dalai Lama arrived in Lagos on Wednesday on a three-day visit following an invitation from a foundation to attend a conference. He has made no political speeches in the west African country.
He leaves Friday night for the Czech Republic and then on to Brussels to address the European Parliament before heading to Poland, where he is due to meet with French President Nicolas Sarkozy.
The 73-year-old Nobel Peace laureate has been a mainstay on the diplomatic stage ever since he fled his native land for neighbouring India in 1959.
Still based in northern India, the Dalai Lama has increasingly been in the spotlight since protests in Tibet turned violent in March this year, just months before the Chinese capital Beijing hosted the Summer Olympic Games.
Regarded by his many supporters outside China as a visionary in the vein of Mahatma Gandhi and Martin Luther King, the Dalai Lama was awarded the Nobel Peace Prize in 1989 for his accent on non-violence to achieve change.
However, he is reviled by the Chinese government, which has branded him a "monster" and accused him of trying to split the nation.