African orphans embrace Oriental arts
By LINDILE SIFILE, Daily Dispatch, Aug 5, 2009
Malawi -- MALAWIAN orphans kicked, somersaulted and contorted their way into the hearts of a dazzled East London audience at the Arts Theatre Club this week.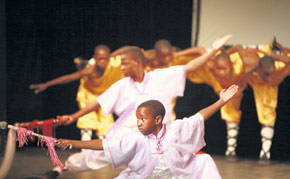 << FOCUSED FUN: Orphans from the Amitofo Care Centre in Malawi perform Chinese martial arts taught by masters from the Shaolin Temple in China. The group are touring South Africa to raise awareness and funds. Picture: ALAN EASON
In A Night of Appreciation, 25 orphans from the Amitofo Care Centre (ACC) in Malawi performed martial arts taught by masters from the Shaolin Temple in China.
They are touring the country to raise funds for the ACC, founded by Buddhist Master Hui Li, from Taiwan, in the 1990s.
This was the group's second time touring the country but their first performance in East London.
Dressed in matching kung-fu outfits the group, aged between seven and 17, thrilled the crowd with daring and dramatic moves using sticks and whips and, just like in Chinese movies, breaking hard objects using their heads, somersaulting and kicking in the air. They also sang in Chinese while some flexed their bodies into weird positions, much to the delight of the audience.
Speaking through a Chinese interpreter, Noel Songwe, 7, one of the stars of the show for his contortionist-like moves, said he enjoys the acrobatics in martial arts because they keep him healthy.
"It helps to keep my body flexible. I have been doing it for a year now and I want to do it for the rest of my life," said Songwe.
ACC has opened homes in countries like Swaziland, Lesotho and Zimbabwe and has given about 3000 orphans a home to date.
ACC general secretary Frank You said they wanted to open a centre in South Africa but the government was posing many restrictions. "T hey seem to think that South Africa has no problem of street kids. We've have been trying for years but nothing comes out of it."
Brandson Hjunga , a Malawian Buddhist and Chinese language tutor who cares for the orphans, said a normal day at the orphanage started at 4am with a shower and running errands.
"We meditate for an hour between 5am and 6am and this is followed by 30 minutes of learning Chinese. Then we do an hour or so of kung-fu before going to school."
After school there is another hour of kung-fu followed by refresher lessons of the Chinese they learnt in the morning.
Hjunga said Oriental ways of living complemented the children's own culture. "We were brought up to respect each other but somehow our African culture lost its glory due to European ideologies. The Chinese culture has withstood that, and teaching African kids about it will only help us retain our humanity," Hjunga said.
TOP