Out of Czech farmland, a Buddhist temple grows
By Jacy Meyer, Contributor, CSM, May 11, 2010
Twenty years after the fall of communism, Czechs are continuing to open up to the world. In the former Soviet satellite's southern countryside, a Buddhist temple is being built on an old farm
Vyhlídky, Czech Republic -- Since the fall of Communism, Czechs have been discovering the world through travel and the exploration of new ideas, including spiritual ones. One such exploration is taking the form of a budding Buddhist center, arising from an old farm in the Czech Republic's southern countryside.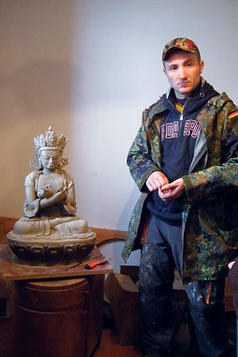 << Martin Bukovinský and a traditional statue of Buddha. Mr. Bukovinský is one of six residents of the Buddhist temple being built on an old farm in the Czech Republic's southern countryside. Jacy Meyer
Monks in orange robes, chanting, the smell of incense – typical signs of a Buddhist center – can't be found at this complex. Here, jeans and sweat shirts, work gloves and safety goggles are the uniform of the day. Volunteers are slowly transforming the farm, bought in 1999 through sponsors and donations, into a center for meditation, courses in Buddhism, and retreats. Currently six people live at the center, and one of them is Julius Grzyb, who has been practicing Buddhism for more than 10 years. Mr. Grzyb believes Czechs were ready to discover new things after 1989.
"People realized quite soon capitalism wasn't enough and wanted something more lasting," he says. He likes the approach of this retreat center, which is a Diamond Way Buddhist Center of the Karma Kagyu lineage.
"I like the style; it's a fresh and modern way of Buddhism and a practical way of life," he says.
This center, explains another resident, Martin Bukovinský, focuses on Buddhist teachings and some traditions such as painting and sculpture. Mr. Bukovinský estimates that there are about 1,000 active Buddhists in the Czech Republic.
The center's dharma name is Karma Döndrub Ling – Place of Accomplishment. Buddhism embraces all cultures, Bukovinský says. The center hosts teachers who travel among different countries and are sensitive to local traditions.
"You have to have someplace to get information, learn how to meditate, work with your mind, and meet people who can inspire you," says Grzyb. "You need to have a human exchange, and that's what this [center] is for".
TOP